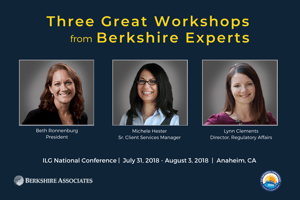 2018 ILG National Conference from July 31-August 3 in Anaheim, CA. This year Berkshire is coming to Anaheim with the latest in compliance updates and strategies. Be sure to attend these great workshops featuring Berkshire's very own:
Lynn Clements
Director, Regulatory Affairs
Tuesday, July 31 at 2:45 p.m.
It's Academic: Tips for Surviving an OFCCP Audit of Higher Education Institutions
President
Thursday, August 2 at 9:45 a.m.
Strategies to Get Leadership's Attention When You're Not Under Audit
Senior Client Services Manager
Thursday, August 2 at 4:15 p.m.
Setting Base Pay: Top Strategies for Collaborating with Compensation to Achieve Pay Equity from the Start
This annual conference never falls short on offering employers a platform to learn and discuss the latest in OFCCP compliance and EEOC issues.
Don't forget to stop by our booth #805 for awesome giveaways and a chance to win some great prizes. We cannot wait to see you in Anaheim!