Ensure your organization is compliant with OFCCP regulations by equipping yourself with the proper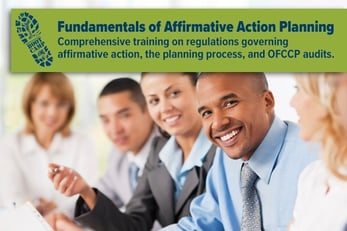 information and resources. If you're new to affirmative action or need a refresher, you should register for Berkshire's Fundamentals of Affirmative Action Planning class. This training will be held March 7 - 8, 2017. In addition to 14 HRCI credits, you will gain expert insight into the required components of an AAP including:
Overview of Affirmative Action
Creating a Written Affirmative Action Plan
Analyzing Your Workforce
Calculating Availability and Setting Goals
Developing Applicant Flow Using OFCCP Definition of an Applicant
Analyzing Your Personnel Actions
See other times and dates this class is offered here.
If you are an existing user of Berkshire's AAP software, BALANCEaap, participate in all four days of our Affirmative Action Planning Boot Camp for a strong AAP workout at our training facility. In addition to gaining the knowledge you need to handle AAP for your organization, you will return to work, in most cases, with a completed plan. "AAP Boot Camp" includes Fundamentals of Affirmative Action Planning, BALANCEaap Software Training, and Collaborative Plan Development.