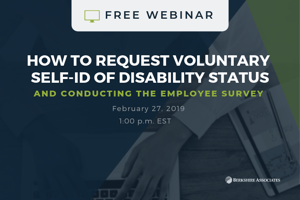 If you're ready to learn the best approach to collecting self-ID information from your employees, you do not want to miss this webinar. In this 30-minute webinar on February 27, 2019, at 1:00 p.m., Berkshire's President, Beth Ronnenburg will discuss how to encourage employees to identify as a person with a disability.
Recently, OFCCP announced it would conduct focused reviews of federal contractors' Section 503 compliance during its Fiscal Year 2019 scheduling cycle. It is important for federal contractors to take the necessary steps to ensure equal employment opportunity and affirmative action for Individuals with Disabilities. Beth will also provide recommendations for creating and conducting an employee survey. This is the second webinar in Berkshire's Section 503 compliance webinar series.
Register today for this webinar on February 27, 2019, at 1:00 p.m. Click here to register and learn more about our other informative webinars in this Section 503 compliance webinar series. With the help of our compliance experts, each webinar will provide you with helpful information to help you prepare for OFCCP Section 503 Focused Reviews.