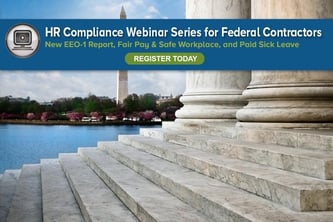 This webinar has ended. You may review the recording here.
Join Berkshire for part two of our HR compliance webinar series on recently-finalized requirements which impact federal contractors. Berkshire's Director of Regulatory Affairs, Lynn Clements will review the new rules for paid sick leave in her webinar presentation, How to Implement the New Paid Sick Leave Requirements, on November 30, 2016, 2-3 p.m. EST.
The webinar topics include:
Which contractors are covered by the new requirements
Which employees qualify to earn paid sick leave
How paid sick leave is accrued
Reasons for use of leave
Impact on existing policies
Tips for implementation
About the presenter: Lynn Clements is a former policy advisor at the DOL and served as the Acting Director of the Policy Division of OFCCP. She oversees OFCCP compliance audits for Berkshire clients and serves as a strategic advisor regarding EEO and Affirmative Action regulations.