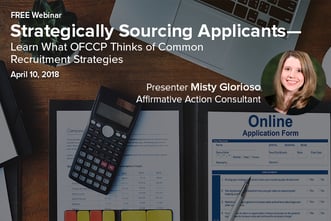 Reserve your seat for this enlightening webinar with Berkshire's Affirmative Action Consultant, Misty Glorioso, as she discusses the impact of common recruitment strategies on a company's federal contracting compliance on April 10. This webinar hosted by JOBfindah will give attendees insight on what OFCCP expects when it comes to today's recruitment practices, as well as receive instruction on defining an Internet applicant, minimizing recordkeeping, and the importance of dispositioning candidates.
Attendees of this timely session will leave with a better understanding of:
The Internet Applicant Rule and the impact of common hiring practices on a contractor's recordkeeping obligations under the rule
How to strategically balance applicant recordkeeping requirements with effective recruitment practices
How greater alignment between recruiter practices and strategic implementation of compliant applicant tracking protocols can positively impact a federal contractor's overall affirmative action compliance efforts
To register click here for this April 10 live webinar at 2 p.m. —seating is limited.
To learn more about this webinar, contact us at 800.882.8904 or bai@berkshireassociates.com.