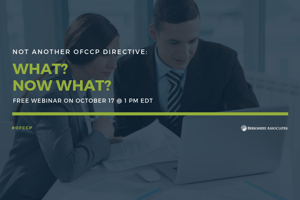 Over the last two months the OFCCP has announced a series of new directives impacting the way in which federal contractors interact with the agency. From a new directive about how the agency will examine compensation discrimination to another announcing focused compliance reviews to new directives geared towards maximizing the success of compliance assistance outreach for federal contractors, a lot has happened at the OFCCP since Acting Director Craig Leen took over in August 2018.
Join us for a timely webinar entitled "Not Another OFCCP Directive: What? Now What?" Berkshire's Director of Regulatory Affairs, Lynn Clements, and Sonia Chapin, a Managing Consultant at Berkshire, will examine the nuts and bolts of each directive and their significance—on October 17 at 1 pm. Attendees will gain insight into how these directives may impact their organization. Lynn and Sonia will also share steps on how to prepare for any changes announced by the new directives.
Click here register and attend this informative webinar on October 17, at 1:00 p.m.—space is limited. To learn more about this webinar, or if you need assistance with OFCCP compliance, contact us at 800.882.8904 or webinars@berkshireassociates.com.