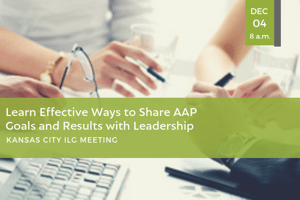 Kristen Johnson, HR Consultant with Berkshire, will partner with Jason Peters of JE Dunn Construction, to share best practices for sharing AAP goals and results with leadership in an effort to gain their support—on December 4 at the Kansas City ILG meeting.
In a presentation entitled "Best Practices–Effective Ways to Share AAP Goals and Results with Leadership," attendees will learn the following:
Regulations surrounding the sharing of goals and gaining support
Best practices for who to share results with, how often, and common questions
Best practices for accountability and follow-up
This Kansas City ILG meeting will be held at Terracon in Olathe, KS on December 4, 2018, at 8:00 a.m.
Need a Speaker for Your Next Local SHRM or ILG Meeting?
If you are interested in scheduling a Berkshire speaker to present on AA/EEO topics at your organization's next event, please contact us today.