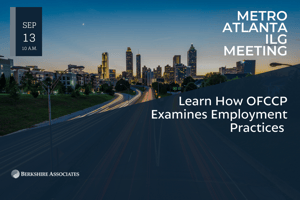 Register and attend the Metro Atlanta ILG meeting where Berkshire's Director of Regulatory Affairs, Lynn Clements will share how to prepare onsite compliance reviews on September 13 in a presentation entitled, "Under the Microscope: How the Government Examines Your Employment Practices Under the ADA and Section 503."
OFCCP recently announced it would conduct onsite reviews focused on Section 503 during Fiscal Year 2019 scheduling cycle. Attendees of this meeting will leave with a better understanding of common company practices that might come under scrutiny this upcoming fiscal year. Using actual case scenarios from government enforcement actions, attendees will learn how the government thinks you should:
Conduct a mental and physical job qualifications review
Evaluate personnel processes, including online systems
Process accommodation and leave requests
Manage performance of an Individual with a Disability
Request medical documentation
This meeting will be on September 13, 2018 at Archer Western Contractors LLC in Atlanta at 10 a.m. Register to attend this meeting today. Spaces are limited!
Need a Speaker for Your Next Local SHRM or ILG Meeting?
If you are interested in scheduling a Berkshire speaker to present on AA/EEO topics at your organization's next event, please contact us today.