On September 29, Lynn Clements, Berkshire's Director of Regulatory Affairs, will present "What Would You Do?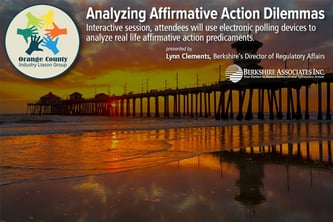 Play Along as We Address Real World Affirmative Action Dilemmas" in Orange County, California at the Southern California Pacific Region ILGs Compliance Summit.

During this interactive session attendees will use electronic polling devices to analyze real life affirmative action predicaments, such as

responding to the new Scheduling Letter

, or overcoming manager resistance to

hiring Individuals with Disabilities

. Through discussion, attendees will learn the pros and cons of different approaches to contemporary affirmative action regulatory issues—and how those decisions impact an organization's compliance strategies.

Learn more about this event here.

If you would like to have a Berkshire Associates' expert presenter speak at your organization's next event, please contact us today.