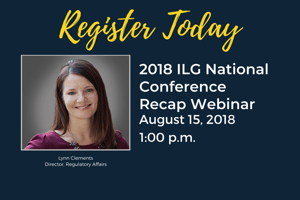 This year compliance professionals convened in Anaheim, CA to discuss strategies for Navigating the Waves of Change at the 2018 ILG National Conference. Berkshire's compliance expert Lynn Clements, Director of Regulatory Affairs, will recap highlights from the conference during a free ILG National Conference Recap Webinar. Register today to hear notable takeaways from keynote presentations, lessons learned, and other notable highlights from the conference.
This webinar is sure to give you key OFCCP compliance insight whether you attended the conference or not. If you're required to comply with OFCCP regulations, this webinar is one you do not want to miss.
Click here to register and attend this informative webinar on August 15 at 1:00 p.m.—space is limited. No consultants or vendors please.
To learn more about this webinar, or if you need assistance with affirmative action plan compliance, contact us at 800.882.8904 or bai@berkshireassociates.com.