October 25-27, 2016, the Society of Human Resource Management (SHRM) Diversity and Inclusion Conference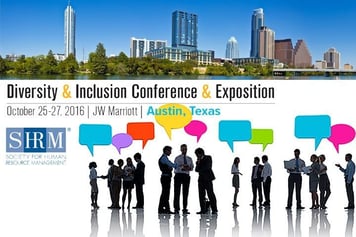 and Exposition will be held at the JQ Marriott in Austin, Texas. This conference will teach HR professionals the importance of creating a culture of diversity and inclusion, help professionals better articulate the strategic business value of diversity and inclusion, and equip them with the skills needed to build more diverse and inclusive cultures. Attendees will learn:
Tactics of developing a robust D&I strategy to align with your organization's strategic goals
How to incorporate D&I as a critical component of your organization's corporate culture
Ways to measure the impact of a diverse, inclusive and culturally competent workforce
More information for this event can be found here.