From August 2-5, 2016, Berkshire Associates will be in Charlotte, NC, supporting the ILG 2016 National Conference. This year's theme is, "First in Flight: Soaring to New Heights in Compliance," and Berkshire intends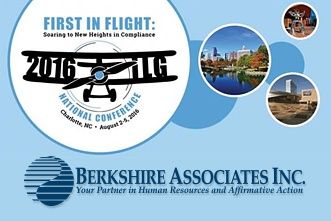 to support this by sharing its compliance expertise with attendees during three presentations:
How to Design and Implement a Strategic Applicant Tracking System, 8/3 at 10 a.m.

Berkshire's Director of Regulatory Affairs, Lynn Clements, is partnering with Michelle Duncan and Jennifer Seda of Jackson Lewis to discuss how to effectively use screening questions and disposition codes, how and when to search for candidates, pre-employment tests, and information storage. When set up properly, a well-developed ATS can protect employers in OFCCP audits while still getting to the best candidates as quickly as possible.

What Would You Do? Play Along as We Address Real World Affirmative Action Dilemmas, 8/3 at 11:45 a.m.
Strategically Becoming One: The Vital Role of the AA/EEO Practitioner in Managing Mergers and Acquisitions, 8/4 at 10 a.m.

Berkshire's President, Beth Ronnenburg, SPHR, SHRM-SCP, will partner with Ivy Latimer from CVS Health, to provide insight into the merger and acquisition process from an AA/EEO perspective. Attendees will also receive a checklist to help them be an active participant from the due diligence step to the close of the transaction.
To view the full conference agenda click here.
Supporting the LGBT community in Charlotte
With the event being held in Charlotte, NILG has stated its presence in Charlotte will reinforce its commitment to equal access for all. According to the conference website:
"The National Industry Liaison Group (NILG) is working with and supports the Southeast ILGs (SE ILGs) led by the Charlotte Area ILG (CALG), who have been planning and working the past four years with considerable effort and financial exposure to host the 2016 ILG National Conference that will be held in Charlotte, North Carolina, August 2-5, 2016. We are working to ensure that this conference will be respectful and inclusive and fully supports equal opportunity for all communities, and in particular, the LGBT community which has been unfairly singled out. The NILG will be in Charlotte to reinforce our commitment to equal access for all, and we ask all ILGs to join us in support of the CALG and SE ILGs by participating in this year's conference. Our presence also supports the citizens and leaders of Charlotte, who share in our commitment to EEO and Affirmative Action, and stands as a statement against the recent law passed by North Carolina which serves to diminish or eliminate the civil rights of the LGBT community guaranteed by law."
Visit Berkshire at the Conference
If you're attending the ILG Conference, we look forward to seeing you in Charlotte. Be sure to come by Berkshire's booth for your chance to win some fantastic prizes! Our speakers will also be at the booth to chat with you about the latest compliance issues and trends.
For support managing the latest AA/EEO regulations and updates impacting your company, contact a Berkshire compliance expert at 800.882.8904.