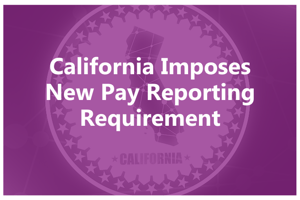 Last month, Governor Gavin Newsom signed SB-973 into law in California. This bill essentially requires all private employers with at least 100 employees inside the state to submit employee wage information on a yearly basis. The first reporting year (2020) needs to be submitted by March 31, 2021. How this data will be submitted to the state is currently unclear, but Berkshire anticipates that it will be in a format like the Component 2 Pay Data Collection of the EEO-1 Report, which EEOC recently declined to continue to collect.
What We Know:
All private employers who have at least 100 employees working inside the state of California and who must file an EEO-1 Report will be required to file the report. Higher education institutions will not be required to submit this new report as they do not file an EEO-1 Report.
Data must be reported by March 31st for the previous calendar year.
The data is from a snapshot from the 4th Quarter of the previous calendar year (i.e., a snapshot from any date between October 1 and December 31).
The snapshot data being requested appears to be exactly like the data requested for EEO-1 Component 2. (Race, Ethnicity, Gender counts by job categories broken down by the EEOC's pay grades utilizing W-2 Box 2 wage information and a compilation of hours worked).
The data requested will be provided in a "consolidated" format and by individual establishment reports.
NAICS or industry code must be included.
Berkshire anticipates being able to assist our clients in filing this yearly report. We also anticipate being able to provide clients with an analysis that gives insight into what the State may see when they analyze submitted compensation data.
What We Don't Know:
Is California requesting ALL employee data regardless of what state the employee resides in if the employer has 100 or more employees in California? This is unclear and it is even more unclear whether the State of California even has the authority to request this information for employees outside of the state.
Will the State of California host a website to collect this data, as EEOC did when it collected Component 2 pay data? Unfortunately, very little is known right now about how the State plans to collect this data from employers. We are working diligently with the state divisions tasked with collecting and reviewing the data to better understand what will be required of employers.
Will this law be challenged in court? Count on it. But companies should also be preparing to comply.
What will the State of California see when they review the data? This is very murky. It seems likely that state regulators may be able to use the data to look at the wage gap (which is not pay equity) across the state and by industry. There is some fear that this information could be used to begin an enforcement investigation into possible compensation disparities by race or gender; however, this is currently debatable and unproven.
Where Do We Go From Here?
Berkshire is working diligently to get the answers to these and many more questions. If you have any questions, please reach out to your dedicated Berkshire consultant or our Manager of Pay Equity. We will update this blog as we learn more.