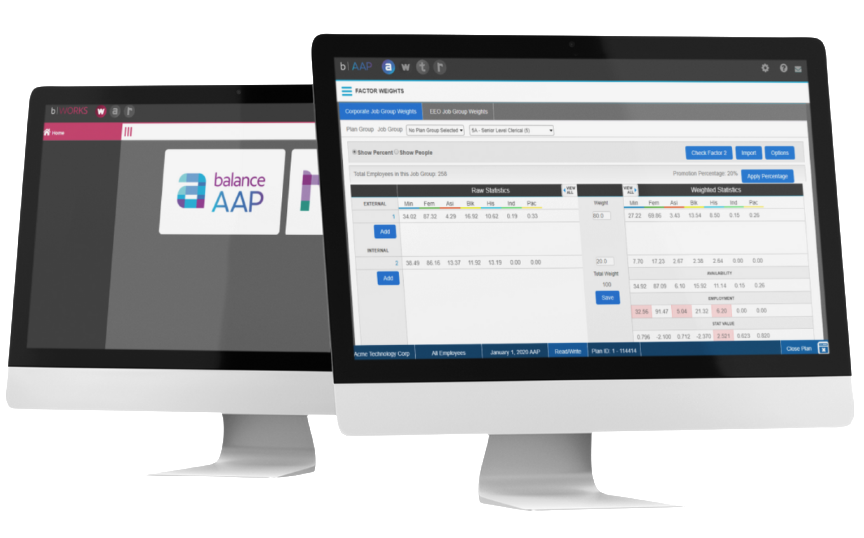 Is balanceAAP Right for You?
balanceAAP software is a great choice if you have the time and expertise to create your organization's Affirmative Action plan. Using our software, you will be able to:
Create a 100% technically Compliant Plan for Minorities and Women plan, Individual with Disabilities plan and Protected Veterans plan.
Customize standard narratives to highlight your organization's program successes
Develop custom drilldown or rollup reporting based on your structure and needs
Create your EEO-1 and VETS 4212 reports
Provide access to final reports online to an unlimited number of users
Track your Good Faith Efforts software balanceREACH
Narratives and Reports
balanceAAP creates both narratives and reports for your Affirmative Action plan, guaranteed to stay 100% compliant with OFCCP reporting requirements. Built-in primary reports include:
Narratives – M/W IWD VETS
Organizational Profile: either Workforce Analysis or Organizational Display
Job Group Analysis
Annotated Employee List
Availability Analysis: both Internal and External Availability
Incumbency vs. Estimated Availability Analysis
Placement Goals and Shortage Reports
Analysis of Personnel Activity
Goal Attainment from previous year
Impact Ratio Analysis by favored group with statistical significance
Compensation Summary
Estimated Labor Statistics Report
Checklists for all main reports
Checklists for all personnel actions and applicant data
Reporting beyond OFCCP requirements includes:
An Executive Dashboard for broader organizational view of accomplishments and problem areas of organization and custom groups in a visually appealing interface

Plan Summary report highlighting successes and goals for each plan

Analyze data based on your organizational hierarchy, using Drill-down and Rollup reporting feature

Trend analysis from year to year by location, job group or EEO Category

Create Establishment or Functional plans, or both for OFCCP compliance and internal practical usability

Generate EEO-1 and VETS-4212 reports for electronic filing within balanceAAP using AAP data or separate data

An online Reports Portal with easy access and distribution of reports to individual stakeholders
Data Analysis
balanceAAP software has a variety of tools and capabilities to help you make sense of your data:
Most thorough automated data validation methodology in the industry

Automated data error checking with easy tools to correct errors

File Consistency checks verify the consistency of employee records across all personnel actions

Bulk Cleanup to save time

Improve accuracy of your applicant data by cross checking against new hires

Create custom personnel actions to analyze potential impact

User friendly data import and export tools
Added Value
Additionally, Berkshire offers a Plan Review Service to balanceAAP users as an add-on service -- delivering an expert review of the plans created by your internal users. Berkshire's experts provide advanced technical knowledge of balanceAAP, expertise with industry best-practices for developing affirmative action plans, and an in-depth quality check.
Plan Review includes:


An extensive checklist to ensure accuracy, methodology and full technical compliance with OFCCP requirements,
Data and Reports check for completeness
Availability, general Census coding, factor weights distribution methodology
Narratives check for proper settings and required information
Suggestions and recommendations to make the final analysis meaningful for your AAP owners.
Berkshire's team of AAP experts are always available to support you in a time of need like OFCCP Audit, to augment AAP skillset during time of resource crunch with our consulting services, and/or general consultation on all OFCCP compliance related topics.
Bundled Features
In addition to all the crucial functionality embedded in this powerful software, Berkshire has built in some add-ons to make the Affirmative Action Planning process as easy as possible. Along with your subscription to balanceAAP you receive complimentary access to:
Good Faith Efforts Tracking: Along with your subscription to balanceAAP, you also get access to our integrated Good Faith Efforts tracking application, balanceREACH, which enables you to document and report on outreach activities across your organization throughout the plan year.


Technical Support: We offer stellar customer support via, phone and email during business hours, hourly and daily backups, and all software updates are included with your annual subscription


EEO-1 and VETS 4212 Reporting: You will receive a fully compliant EEO-1 and VETS-4212 reporting module for companies to generate reports and electronic files for submissions to their respective sites and forms.
Security
balanceAAP offers the peace of mind that sensitive data is safe and secure, while still available to you and your team at any time. As a cloud-based solution, balanceAAP lowers the risk associated with computer viruses, network reliability, and system crashes. Berkshire ensures 99.9% up-time and unfettered access to your AAP information.
Ways that we ensure your data is protected and secure:
Berkshire is certified annually for SOC 2 Type II for Security, Availability, Processing Integrity, and Confidentiality.
Data and plans are secure on Berkshire owned and managed servers, in a SOC 1 and 2 certified, secure data center
Hourly and daily data backups and fully implemented Disaster Recovery Plan
Warm offsite disaster recovery data center and data storage provides quick recovery time from any disaster
Berkshire uses 256-bit encryption for all data in-transit and at-rest in balanceAAP
Customizable password configuration, allowing for extremely strong and complex protection based on your company policy
Single-Sign-On (SSO) integration ready
Role-based permissions at the system and plan levels