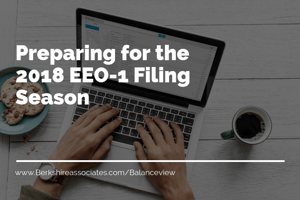 When I signed up to write this blog I thought we would all be preparing for the 2018 EEO-1 filing season. Instead, the EEOC is closed during the partial federal government shutdown. Therefore, we do not have any new news about the filing. However, we have some suggestions as you prepare for filing the 2018 reports after the EEO-1 website is up and running again.
First, take a good look at your company and your data. Ask yourself (and others) these questions:
Is the employee population representative of the employee population used for the 2017 filing?
Did the company experience a merger, acquisition or spin-off in 2018?
Was the company purchased by another company in 2018?
Is the company contact person or their email address the same as last year? (Check last year's Company Consolidated report)
Has the headquarters or any other location moved to a new address?
Did the company close establishments in 2018?
Did the company open new establishments in 2018?
Did the company consolidate establishments in 2018?
Did the company become a new federal contractor in 2018?
The questions above are enough to make your head spin—and this is not an exhaustive list! For each one of these questions there may be sub-questions. However, this is a good start to ensuring your reports are ready to file.
The next step is to gather the data that you will use. The report requires that you use a snapshot from any pay period between the dates of October 1, 2018, through December 31, 2018. This pay period may be one date or a date range. It should be a snapshot of active full-time and part-time employees.
Once you have identified the data to be used, scrub it for missing or inaccurate information. All employees in the company MUST be reported on the EEO-1. Check your data for missing race/ethnicity and/or gender information. The report will not accept unknown or blank race/ethnicity or gender.
Other critical information to check include:
EEO-1 category assigned to each job held by the employees in your snapshot
Establishment assignments for each employee
NAICS, DUNS, and FEIN numbers assigned to each establishment—these are on each report filed in 2017
Even though non-essential employees are not currently working, you can still get some help from the EEOC website at https://www.eeoc.gov/employers/eeo1survey/. The Users Guide and How-To-Guide provide very helpful information. There is also important information on the EEOC's main web page for companies who have experienced mergers, acquisitions or spinoffs. The EEOC requires notice of these events before you can file your reports. We suggest you prepare this notice now!
If you have specific questions about preparing your EEO-1 report, please contact Berkshire Associates at bai@berkshireassociates.com, or 800.882.8904. Click here to find out how Berkshire can file your EEO-1 report on your behalf.