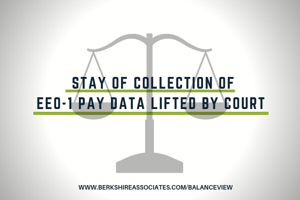 A federal judge has ordered that a stay on the collection of compensation data on the EEO-1 report be lifted. Berkshire previously reported on the expansion of the EEO-1 form to include detailed worker pay data in 2016. The pay data collection tool was stayed by the current administration in 2017, and that stay was challenged in court in 2018.
The decision comes in the case of National Women's Law Center et al v. Office of Management and Budget (OMB). The case centered around the EEOC's approved inclusion of pay data on existing EEO-1 reports, which was scheduled to take effect in the 2018 reporting cycle. Prior to implementation of the reporting changes, the OMB stated the changes in a letter to then EEOC Acting Chair, Victoria Lipnic, claiming the additional data collection was contrary to the Paperwork Reduction Act.
The National Women's Law Center and the Lawyers' Committee for Civil Rights sued, claiming the stay hindered the agency's ability to provide advocacy for clients and public education of pay discrimination. In this week's decision, the judge ordered that the "previous approval of the revised EEO-1 form shall be in effect." It is currently unknown how this decision will affect the upcoming EEO-1 reporting period, which is expected to open on March 18. The current deadline for filing is May 31. To add a layer of complexity to this issue the EEOC does not have a quorum of commissioners, meaning they are not able to vote on new processes or other items at that level.
Stay tuned to Berkshire's blog as more details are learned on this decision and subsequent impact on EEO-1 reporting.