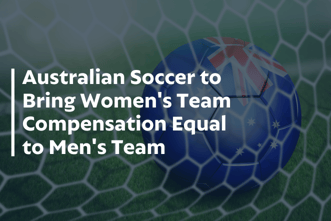 The Australian soccer federation announced a landmark agreement with the players union to bridge the pay gap between the men's and women's national teams. The issue of equal pay for female athletes was at the forefront during the World Cup winning celebrations of the US Women's National Team (USWNT) earlier this year. The USWNT are suing the sport's governing body for gender discrimination, arguing that payments have not been equal despite overwhelming success compared to their male counterparts.
The new agreement by the Australian soccer's governing body states that the women's and men's team will receive equal shares of total player revenue, in addition to committing equal amounts of resources to both teams, upgrading the parental leave policy, and setting aside money for youth programs. It is important to note that while the Australian Football Federation has taken efforts to reduce the difference in pay, the gap will remain unchanged regarding the World Cup payouts because the prizes in those tournaments depend on performance.
Australia's efforts to close the gender pay gap in soccer will have significant influence in May, when the USWNT's case for equal pay goes to court. The USWNT can draw strong parallels between their case and the one of their Australian counterparts given that both the Australian team and the USWNT are ranked higher than the men's national teams in the FIFA rankings. Furthermore, both the USWNT and the Australian team have outperformed their male counterparts in the World Cups. The USWNT is expected to use this case to build the foundation for equal distribution of funds within the US Soccer Federation. We will closely monitor how this groundbreaking case will affect the USWNT lawsuit in May.