5/9/2022 Update:
EEO-1 Deadline and Failure to File Notice
The deadline remains May 17, 2022. Filers who do not certify by May 17, 2022 will receive a "failure to file notice." Those filers will be given until June 21, 2022 to file. The site will be closed after June 21st and no further data will be accepted.
Filers should refer to this FAQ on the EEO-1 website https://eeocdata.org/EEO1/support/faq:
What happens once the Tuesday, May 17, 2022 deadline passes? Will I still be permitted to submit my 2021 EEO-1 Component 1 Report(s) if I have been unable to do so by the May 17, 2022 published deadline?
Yes. Following the May 17, 2022 published deadline, the EEOC will enter the "failure to file" phase. All filers who have not submitted and certified their mandatory 2021 EEO-1 Component 1 Report(s) by the Tuesday, May 17, 2022 published deadline will receive a notice of failure to file instructing them to submit and certify their data AS SOON AS POSSIBLE, and NO LATER THAN TUESDAY, JUNE 21, 2022. This additional time, through Tuesday, June 21st, 2022, will be available to ALL filers who have not submitted and certified their 2021 EEO-1 Component 1 Report(s) by the May 17, 2022 published deadline.
Please be advised that AFTER the June 21, 2022 deadline passes, NO additional 2021 EEO-1 Component 1 Reports will be accepted, and eligible filers will be out of compliance with their mandatory 2021 EEO-1 Component 1 filing obligation.
-----------------------------------------------------
3/23/2021 Update:
The EEO-1 website, identified as the EEO-1 Component 1 Online Filing System (OFS), was updated yesterday! Some companies have already received email notices about the announcement and changes. These emails may have gone to the Certifying Official shown on the the 2020 EEO-1 Company Consolidated report.
View the details of the announcement on the EEO-1 main page. Some of the changes and enhancements include:
2021 EEO-1 Component 1 Instruction Booklet
FAQs
Login and password process
Self Service
Procedures for Mergers, Acquisitions and Spinoffs
Company Number and a PIN number will be sent to users via U.S. mail in early April
One of the best features appears to be the Self-Service function which allows the user to add or change the Contact Person. The user can also invite other registered uses to link to the company.
Returning users will first use this link to go to the OFS sign in page (see image below.) After using the login and password established in the 2019/2020 filing period, the user will be prompted to reset their password.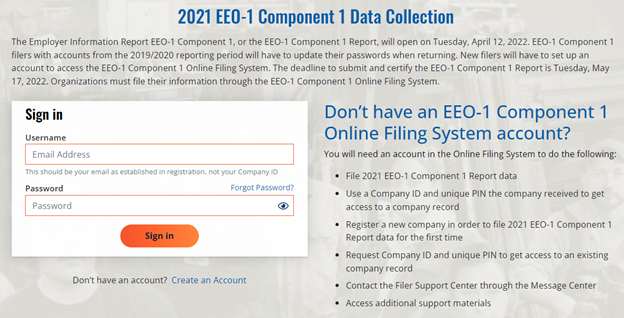 New users for an existing company will create an individual user account and then link that account to an existing company. Some information will be required to link to the existing company:
Parent or Company EIN and number of employees reported in 2020





OR

Company ID and PIN number sent via U.S. Mail in early April 2022
Companies who will file for the first time for the 2021 filing period will follow the link on the Sign in page to Create an Account.
Mergers, Acquisitions and Spinoffs
Notifying EEOC about these 2021 activities is back, after a brief recess in the previous filing period, and there is a module built into the system. Users must first log in to the OFS. For details and examples see the FAQs for Company Organizational Changes.
Filer Support Center

A Filer Support Center is now available online and includes FAQs and other guidance.
The Filer Support Center includes a Contact us feature for filers to submit inquiries to EEOC. Companies who want to submit an inquiry to the Filer Support Team must first login to the OFS. Once logged in, a Message Center icon will be visible. This support feature will be available in a limited capacity until April 12, 2022 – the first day EEO-1 reports can be filed. Read more here: Contact Us.
We encourage clients to visit the OFS to change their password. This will allow retrieval of previous EEO-1 reports and set up the 2021 filing season. Please contact your Berkshire consultant for assistance in preparing your data for EEO-1 development.
----------------------------------------------
1/7/2021 Update:
EEOC made a surprise announcement on their website today and emailed the news out to affected filers. Multi-establishment employers with establishments where the headcount is less than 50 employees MUST report the establishment as a Type 8 report. Report Type 6 is no longer acceptable.
For multiple establishment employers EEOC has required a Report Type for each establishment. Those Report Types have been:
Type 3 – Headquarters regardless of the headcount
Type 4 – Previously filed establishments with 50 or more employees
Type 9 – New establishments with 50 or more employees IF using the electronic upload file option
For establishments with less than 50 employees
Type 6
Or,
Type 8
All establishments except for Type 6 showed establishment and company information along with employee counts by EEO-1 category, gender and race or ethnicity in the familiar grid format. Type 6 establishments included company and establishment information but only total headcount. No information was reported for EEO-1 category, gender and race or ethnicity. Employees in Type 6 establishments were included in the overall Company Consolidated report in the appropriate categories along with all other employees.
EEOC presents this change as a positive move to allow them to collect more accurate employee demographic data in support of their mission to prevent and remedy unlawful employment discrimination and advance equal opportunity in the workplace.
Berkshire is closely monitoring the impact of this change and will continue to report as more information develops.
----------------------------------------------
EEOC previously reported that the EEO-1 filing website is tentatively scheduled to open for 2021 EEO-1 data collection on Tuesday April 12, 2022. The due date for filing 2021 EEO-1s is tentatively set for Tuesday May 17, 2022.
The EEO-1 Filer Support Team help desk remains closed until closer to April 12th.
You may also review progress on the EEO-1 Data Collections webpage and/or filing website.
Berkshire is closely following EEO-1 reporting developments. Watch this space for updates.