Military Veterans continue to face difficulty translating their skills and experience into civilian terms, but employers can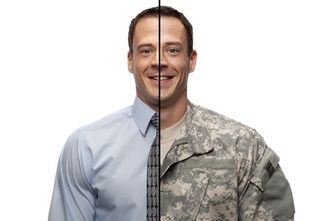 help them, consultants say.
''One of the top concerns I hear from both Veterans and employers is the difficulty with properly translating military skills and experience into the required skill sets for civilian jobs,'' Beth Ronnenburg, president of Columbia, Md.-based HR consultancy Berkshire Associates Inc., told Bloomberg BNA in an Oct. 27 email. ''Military personnel find it overwhelming when they have to read through hundreds of job descriptions to find jobs for which they are qualified; some also find it challenging to determine which civilian jobs match the skillset they developed in the military.''
This difficulty is reflected in a recent survey conducted by Matawan, N.J.-based talent acquisition software provider iCIMS. Nearly nine in 10 (89 percent) Veterans polled hadn't applied for or accepted a job when they left the military. Some 41 percent said the reason was they lacked needed education or training, while 21 percent worried the employer would discriminate against them—the same fear leading the same proportion of respondents to deliberately hide or understate their military experience to potential employers. (Insufficient pay or benefits was the top reason for turning down or not applying for a job, at 56 percent.)
Addressing Skills Gap. To address the military-civilian skills gap, which may be more apparent than real, ''some employers provide 'military skills translators' as a part'' of their applicant tracking system, Ronnenburg said. ''These tools allow a Veteran to list his or her military jobs, rank, and skills and the ATS then finds available jobs at the company that match the Veteran's skill set.''
Other employers, Ronnenburg said, have recruiters who work exclusively with Veterans and help them throughout the hiring process. ''Many employers find that Veterans have skill sets that are very valuable,'' she said. Some defense contractors, for example, hire Veterans who ''have experience using the products that the contractor is selling to the government and can provide valuable insight. In other cases, the employer can benefit from some of the soft skills that typically come with military training, such as loyalty, reliability, self-discipline, and communication.''
How to Improve Veteran Hiring. ''Employers should advertise open positions across multiple channels, encourage employee referrals, and promote their employment brand in the military community in an effort to improve Veteran hiring,'' Susan Vitale, chief marketing officer for iCIMS, told Bloomberg BNA in an Oct. 27 email. She also suggested:
Cooperating with talent acquisition technology providers to create job candidate pools made up of Veterans;
Encouraging Veterans they already employ ''to refer others for open positions;"
Encouraging Veterans looking for work to sign up for relevant communications;
Making it clear ''how military experience is a good fit for open company positions.'' ''In addition to benefiting from the skills and talent military Veterans can bring to a company, employers who hire Veterans may qualify for incentives and tax credits from the government,'' Vitale said. ''Work Opportunity Tax Credit (WOTC) may be earned by employers who hire Veterans who have consistently faced significant barriers to employment. The tax benefits range from $1,200 to $9,600, depending on the hire.''
The Returning Heroes Tax Credit and the Wounded Warrior Tax Credit have both been extended through 2019, and some states also offer tax incentives for employers that hire Veterans, Vitale said.
The iCIMS survey was conducted online Aug. 22 to 29 among 708 U.S. post-9/11 Veterans. Results were announced Oct. 17.
To contact the reporter on this story: Martin Berman- Gorvine in Washington at mbermangorvine@bna.com
To contact the editor responsible for this story: Tony Harris at tharris@bna.com
Reproduced with permission from Human Resources Report, 34 HRR 1201, (Nov. 7, 2016). Copyright 2016 by The Bureau of National Affairs, Inc. (800-372-1033) <http://www.bna.com>