When it comes to fair pay practices, it's no secret that Office of Federal Contract Compliance Programs (OFCCP)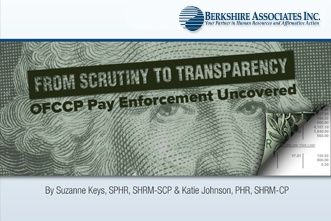 means business. Since 2013, OFCCP has steadily increased and changed the way it examines a federal contractor's compensation practices during a compliance review. This started with the issuance of Directive 307 in 2013, then led the way to the agency's mission to uncover pay disparities bolstered by the revised Scheduling Letter, released in 2014. The Scheduling Letter requires contractors to provide individual, employee-level compensation data in every review. In 2015, large scale data requests for pay factor information, along with detailed compensation manager interviews, suggests the agency's efforts continue to intensify.
It's important to recognize OFCCP's approach to pay discrimination goes beyond its enforcement practices and extends to its regulatory agenda. The agency finalized regulations to implement Executive Order 13665, which amends Executive Order 11246, prohibiting contractors from taking adverse action against certain employees and applicants for discussing or disclosing pay information. This regulation is effective for all federal contracts and subcontracts entered into or modified after January 11, 2016. These new rules are intended to allow employees and applicants to unearth unfair pay practices by freely discussing their pay with others. Still on the horizon is the proposed Equal Pay Report, which would require federal contractors and subcontractors to submit summary compensation data on an annual basis, in a format similar to the current EEO-1 Report.
With the latest regulation and enforcement agenda in place, it's no surprise HR and compliance professionals are looking for a clear understanding of OFCCP's current pay analyses, and how to protect their companies from liability.
Berkshire has developed a white paper, "From Scrutiny to Transparency: OFCCP Pay Enforcement Uncovered," to give contractors a resource to better understand and manage what to expect when it comes to fair pay requirements.
This HR white paper will help you recognize the areas you need to be responding to now to meet OFCCP's compensation enforcement. Download the white paper to learn about:
OFCCP's current compensation analyses

The six main topics covered during a compensation compliance interview

How to manage the end of pay secrecy

The importance of annual salary equity analysis

efforts
Understanding how and why OFCCP is enforcing compensation compliance is critical in keeping your company protected from liability. Check out this informative white paper now to learn more.
To find out how Berkshire can help you ensure your compensation practices are in compliance, contact us at bai@berkshireassociates.com or call 800.882.8904.

For more information on the pay transparency final rule, view this free recorded webinar, "The End of Pay Secrecy: Complying with OFCCP's Pay Transparency Rule in 2016."