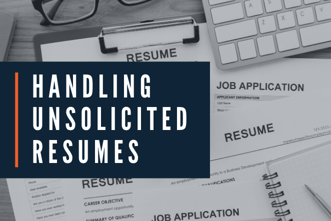 For contractors, the typical process for bringing on a new employee will likely be opening a requisition, considering and interviewing applicants, and extending an offer to one of those applicants. However, contractors should have plans for how to process unsolicited résumés from job seekers, as some job seekers will want to submit their résumés without applying to a specific requisition, with the possibility of being the right fit farther down the road. It's not unlikely to have an immense number of these unsolicited résumés from eager job seekers, and so contractors need to be aware of their obligations of how to handle and maintain these résumés.
Contractors should be aware these sorts of job seekers do not automatically meet all criteria of the "Internet Applicant" definition. Those criteria are:
The job seeker has submitted an expression of interest in employment through the Internet or related electronic data technologies
The employer considers the job seeker for employment in a particular open position
The job seeker's expression of interest indicates the individual possesses the advertised, non-comparative, objective and job-related basic qualifications for the position
The job seeker at no point prior to an offer indicates he or she is no longer interested in employment in the position for which the employer has considered the individual
In the case of an unsolicited resume, rule 1 is met, but the remaining three are not. Because there was not a specific job applied to or indication of specific qualifications for a role, unsolicited résumés do not necessarily need to be included as part of data analyses done during the contractor's annual and six-month update Affirmative Action Plan.
Contractors should consider developing a blanket, uniform approach for how to consider all résumés received outside a specific requisition. One option for how to handle receipt of these résumés could be to automatically inform all senders that résumés alone will not be considered and encouraging applications to open requisitions. Whatever solution contractors decide on, it is important to develop a system that will be consistently observed, as inconsistency could be reasonably questioned in an OFCCP audit. An unfocused process of looking through these additional résumés, and perhaps appending them to an existing requisition, may also allow the agency to ask why self-identification information was not requested if these job seekers were clearly considered.
When it comes to storing these résumés, contractors should also be aware of record keeping requirements. The OFCCP holds the position that "contractors are not required to retain records regarding individuals who were never considered for a particular position. The rule generally requires a contractor to retain all the expressions of interest it considered." As long as contractors do not pick and choose from these reserves of job seekers for open requisitions, there is not an obligation to maintain copies of these résumés in their systems.
While it is encouraging to have an overflow of interest from candidates to work for your company, contractors should plan to have a consistent process in place for how to receive these résumés. It may be tempting to sift through a trove of "auxiliary" candidates if a requisition's candidate search is going slowly, but contractors should be aware that doing so may open themselves up to an examination by the OFCCP and require defense of any ad hoc decisions made.