By organizing your hiring process, you'll save yourself and your candidates time.
So much of strong execution in any activity comes from adequate preparation. Whether it's music, athletics, or just your daily occupation, the time you spend preparing has a direct effect on how successful you are. If you don't spend any time getting yourself in gear, you won't accomplish what you set out to—but if you pay attention to the details, you'll find your task will be easier to manage.
If you're an HR professional, the same holds true. Some of your goals may be to hire strong candidates who align with the company's mindset, seek to stick around for the long haul, and perform above and beyond expectations. The best way to do so is to make sure you have a consistent hiring process that takes all factors into account early on so you don't have to play a guessing game when it's time to make an offer. Here are some of the best ways to accomplish that:
1. Don't get bogged down by the numbers
It's 2015—there's technology out there that can allow you to get past number crunching or logistical difficulties. An applicant tracking system goes a long way in relieving you of mind-numbing legwork. That's because the software is designed to handle the application process from the get-go, particularly the initial application and online forms. In essence, it places the beginning of an application on "autopilot" so you can concern yourself with more pressing matters.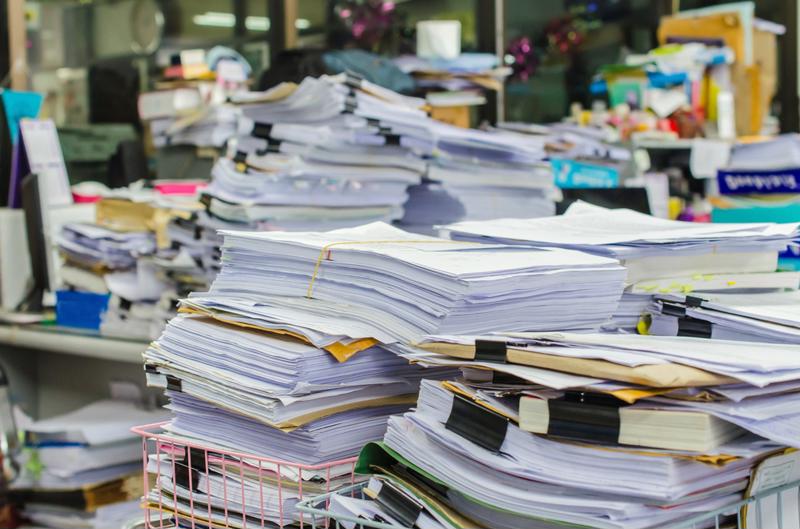 If this is your HR office, you need a change.
"For organizations that still rely on paper, software will be a game-changer."
2. Build a better job listing
If you consistently get job applications that aren't what you're looking for, maybe your job posting needs to be tweaked or overhauled altogether. By putting in a little more effort in the backend and creating a stronger listing, you're likely to bump up the caliber of candidates who respond. An applicant tracking application can also help provide you with insights and trending data points regarding the types of candidates who apply, and which advertisements have greater or lesser success.
3. Consolidate your processes
Having a packed agenda and a dozen different tasks to take care of at once will hinder how well you accomplish any one of them. The best way to make your job simpler might be to make the application process easier for candidates. Applicant tracking software streamlines the application, eliminating unnecessary steps for the individual and consolidating your own job into a more manageable workload. For organizations that still rely on paper, this software will be a game-changer. Instead of filing stacks of papers, misplacing important documents, and wasting time and resources on multiple copies, everything can be held under one virtual roof.
After you've established a more concise, reliable, and efficient hiring process, you can focus on making important hiring decisions at the end of the line. Interviews, offer sheets, and other HR tasks require a human touch—something you'll be better-suited to provide without having to worry about the logistical side.