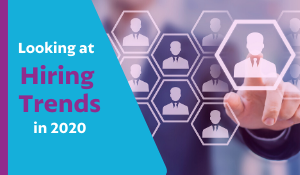 As we firmly settle into the new year and prepare for Spring, it's time to take a retrospective look at what hiring practices have been successful for us in the past — and what we can improve on in 2020.
So grab your pen and paper, and let's dive into the past year's hiring trends... and consider new opportunities and expectations that 2020 may present.


Employment Challenges That Are Here to Stay
With unemployment low and projected to stay that way, it's going to be increasingly difficult to attract the best talent. To overcome this challenge, it's important to focus on creating a great candidate experience. Another trend we've seen is expansion of HR technology applications, and we expect to see this trend accelerate into 2020 and beyond.
The use of AI-driven hiring technology is predicted to increase in the coming year. While AI has great potential to eliminate implicit bias, there are concerns regarding unintentionally programming bias into those programs. The EEOC suggests vigilance when programming and implementing AI-based hiring technology, as well as validated testing. The number of remote and virtual positions increased over the past year and is also predicted to rise in 2020.


One Trend That Needs to Go
A trend that we hope to see diminish in 2020 is the failure to accommodate candidates with disabilities. The EEOC has filed a number of cases on behalf of candidates who felt they did not receive the accommodations needed during the interview process. To mitigate this, it's important to remember that contractors must provide accommodations not only for employees but for candidates, too.
Common requests can be having an interpreter in the interview process, getting additional time on tests or assessments, or internet-based applications optimized for those with visual impairments. An applicant denied reasonable accommodation could file a charge of discrimination with the EEOC, and the contractor could be required to pay monetary damages or other make-whole relief to the applicant.

Regulations Changes That Are Coming
Over the last few years, regulations were proposed that would modernize the recruitment requirements for employers seeking workers under H-2B visa rules. As such, employers who rely on H-2B workers should be vigilant. A cap might be put in place that could affect your hiring practices.
When it comes to state-level regulations, multi-state employers must be cautious. Individual states have introduced regulations regarding pay structure and transparency, but they all differ from one another. To maintain compliance across state borders, multi-state companies should exercise caution when managing payroll.
Some states — California, for example — have issued regulations regarding the diversity makeup of a company's board of directors. There is a push to include more women's voices and viewpoints. While this doesn't directly affect routine hiring practices, it does reflect the need for organizational diversity.
Finally, as we look ahead at 2020, many states are introducing legislation that governs what an employer can ask regarding a candidate's criminal convictions. Although these vary widely by state, the EEOC suggests asking about convictions late in the hiring process, once the employer has "met" the candidate in person to alleviate risks of discrimination.
Did you know Berkshire offers an ATS designed specifically to meet contractor's recruitment needs? Check out balanceTRAK to see if it's a good fit for you!