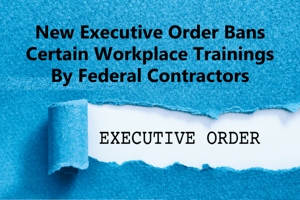 Yesterday, President Trump issued a new executive order, "Combatting Race and Sex Stereotyping", which will prohibit federal contractors from offering workplace training "that inculcates in its employees any form of race or sex stereotyping or any form of race or sex scapegoating."
The new Executive Order also requires that covered federal contractors provide a new notice to applicants, employees, and unions and revise the EEO flow down language for purchase orders and subcontracts to incorporate these new requirements. In addition, OFCCP must establish a hotline for accepting complaints and, within the next 30 days, issue a request for information regarding training and workshops offered by federal contractors and subtractors having to do with diversity and inclusion.
These new requirements appear to only apply to contracts entered into after September 22, 2020, the date the Executive Order was issued. The Executive Order does not apply to contracts that are exempt from the nondiscrimination and affirmative action requirements under Section 204 of Executive Order 11246. We do not yet know whether or when OFCCP will issue regulations to fully implement these requirements.
You can read the full text of the new order at: https://www.whitehouse.gov/presidential-actions/executive-order-combating-race-sex-stereotyping/