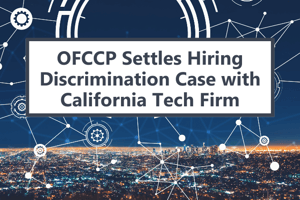 An OFCCP audit initiated in 2016 recently closed with a conciliation agreement with several noteworthy results. The OFCCP alleged that its statistical analysis revealed that Whites were selected at a statistically significant lower rate than Asian applicants for Computer Systems Analyst roles.
Among various technical violations, the OFCCP also found that the Company failed to conduct good faith efforts in recruiting White applicants for these roles and that the Company should have established a placement goal as a result. While Mphasis denies the OFCCP's findings/allegations, they have agreed to pay backpay and interest of almost $172,000 to affected class members and entered into a conciliation agreement with the OFCCP.
This agreement has sparked interest among the contractor community for several reasons. First, it is rare to see a conciliation agreement where a violation is alleged for failing to set placement goals for an individual race category since the Executive Order 11246 regulations generally require contractors to evaluate underutilization by total minority status. Even more unusual is that in this case the OFCCP found that the contractor should have set placement goals and implemented good faith efforts for Whites since the utilization of white employees in this group was so greatly less than availability. During the NILG 2020 Virtual Conference – Webinar Series, OFCCP officials noted contractor interest in this settlement and indicated the agency would be providing more guidance and information soon.
This case is also a good reminder that another thing to keep in mind when reviewing your AAP data is if you have multiple flags for the same group across analyses. In this case, the OFCCP found underutilization of Whites in the Computer Systems Analyst position and found significant adverse impact in the hiring data against White applicants, with Asians as the favored group. When companies see the same job group and same race or gender category with flags across analyses, they should take a closer look at the selection processes for those groups to identify potential issues that may be negatively impacting equal employment opportunity for those groups.