With the holidays quickly approaching, hiring managers everywhere are reassessing their recruitment strategies.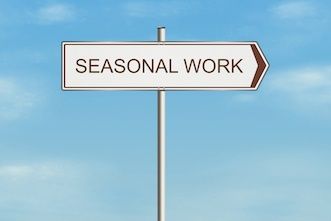 For most organizations, this can be the busiest time of the year. To meet the spike in consumer demand,
employers often turn to seasonal hiring.
According to Snagajob's Holiday Hiring 2016 report, almost all (90 percent) employers plan to hire this year, with 86 percent expecting to bring the seasonal workers on as full-time employees once the holidays are over. With more employers expected to hire seasonal workers this year than they have the past two years, the temporary recruitment landscape competition is heating up.
Seasonal Hiring Challenges
Snagajob revealed the majority (82 percent) of hiring managers experience difficulty filling seasonal positions, with some of the top challenges being a lack of qualified candidates, lack of available talent, and increased competition.
"Lack of qualified and available talent is leading to intense seasonal hiring competition."
As with any time of the year, a critical aspect of recruitment is making sure the candidate is the right fit for the position. During the holidays, though, taking the time to find—let alone thoroughly screen and vet—applicants can be significantly more challenging. Time is of the essence, and most hiring managers just want to fill the positions as quickly as possible.
On the other hand, there is much value in taking the time to ensure the best candidates are chosen because there is a possibility of them turning into a full-time hire. With quality talent being hard to come by nowadays, if a temporary worker proves to be a top performer, it can offer an incredible return on investment.
Tips For Improving Holiday Recruitment
One of the best ways to optimize recruitment processes is to adopt an applicant tracking system (ATS.) An ATS is particularly helpful during the busy holiday season when employers don't have as much time to dedicate to sorting through applications, screening and assessing prospects, and reviewing candidate profiles. According to the Snagajob report, an increasing number of employers agree that having the ability to review candidate application profiles from mobile devices can streamline holiday hiring processes.
Also, having an easy to use ATS can help increase the number of applicants, and enables HR managers to revisit previous applicants—which can further reduce time-to-hire.
Although the holidays are right around the corner, it's not too late to optimize your HR recruitment strategy. Doing so will offer a greater ROI from seasonal hiring.