So many articles nowadays are geared toward helping you perfect your role, but there aren't many that consider the technology you work with daily. The tools you use will ultimately dictate the success you have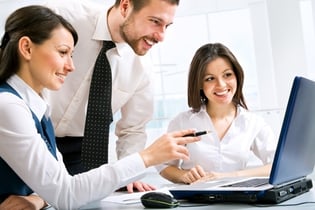 with candidates. The digital age has made it much easier for HR departments to stay in touch with potential hires, and take a lot of stress off some recruiter's shoulders. Consider implementing these pieces of technology in your recruitment process.
1. Skype
Skype has come to light as one of HR's most useful tools in the last half decade. In-person interviews can be time-consuming and can drain a department's budget when having to fly in a candidate. While having top talent meet HR is recommended, using video can help HR get through a large volume of interviews in a relatively short period.
Video interviews take a little time to set up and allow staff members to stay at their offices. They provide a comfortable experience for the candidate, who doesn't even have to leave his or her house to participate. Above all else, interviews done through Skype bring a more personal feeling to the process that a phone call just can't provide.
Don't forget it's still an interview. Make sure always to dress and act professionally and have questions ready to ask beforehand so the process isn't drawn out.
2. Applicant tracking system
Having to track, sort, and file résumés can be a stressful challenge. Fortunately, there is computer software on the market that can help.
Applicant tracking systems (ATS) help HR departments organize résumés as they are sent in for job openings. The platform flags résumés and tailors them to certain predetermined categories, such as past employers, the number of years of industry experience, and any other pertinent facts to which you may want to be alerted.
Using an ATS can cut down on the amount of clutter that reaches your desk and gives you peace of mind knowing résumés will be sorted into certain electronic folders that will ultimately shave time off your day.
3. Mobile apps
Mobile apps have become ingrained in our daily routines—so why not recruiting? According to a Pew Research study, 58 percent of Americans own smartphones. Mobile apps let HR departments maneuver situations they may not have been able to in years past. This can be anything from working around an Internet outage at the office, to giving candidates a more welcoming feeling by texting them instead of emailing.
Recruiter listed several apps that HR departments are using now:
Job Speek allows you to post 60-second audio messages to job listing sites that explain your needs to candidates.
Google Power Search makes it easy for HR to search the Internet for hires.
Tungle is a scheduling tool that recruiters can use with potential employees.
Integrate technology on various levels to see the rewards in action. Pairing an ATS with a social mobile app could lead to breakthroughs in your hiring process.