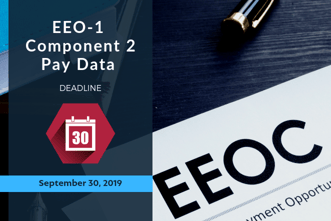 On Thursday April 25, 2019, a federal judge ordered that the EEOC begin collecting employee pay data by race, ethnicity, and sex. Also referred to as Component 2 of the EEO-1 report, employers will need to submit their 2018 pay and hours worked data by September 30, 2019. The judge also ordered the agency to collect a second year of pay data, giving it a choice between collecting employers' 2017 or 2019 pay data. By April 29, the EEOC will post a statement on its website informing employers of the 2018 data submission requirement, and by May 3 it will inform the judge and employers if the 2017 or 2019 pay data will be collected.
This decision ends weeks of debate and uncertainty for companies who have been expecting a decision on collection of the Component 2 data, but it should be noted that this decision is subject to challenges from employer and industry groups. Component 1, the standard employee counts reported by race, ethnicity, and sex is still due by May 31.
Component 2 data collection supplements the agency's long-running collection of employers' demographic data by EEO category. This additional data applies to all businesses with at least 100 employees. The EEOC previously stated that they did not have the ability to accept the pay component with its current infrastructure and security. However, they could meet a September 30 deadline if they hired an outside contracting service. The agency has publicized that it will cost more than $3 million to hire a contractor to assist in the data collection efforts.
Here's how Berkshire is preparing to support clients:
For clients for whom we currently file EEO-1 reports and have the appropriate data files by May 1, Berkshire will file the current Component 1 reports by the May 31 deadline.
Berkshire will update our balanceAAP software to be able to generate the necessary file after the data specifications are published by the EEOC's contractor. Then, we will inform our clients of what we need from them to be able to generate and file their Component 2 reports. Plans for enhancements to our balanceAAP software to meet the Component 2 requirements are underway and Berkshire will be fully equipped to prepare the report for filing by September 30.
Clients should begin pulling the data or determining how the data can be pulled for employees reported in the 2018 Component 1 filing. Previously reported requirements from the EEOC have been removed from their website, but they are expected to remain the same and include:

W-2 Box 1 Earnings—these will be reported in aggregated pay bands designated by the EEOC for each race/ethnicity/gender and EEO-1 category. Clients can submit the Box 1, W-2 data for each employee, and using our balanceAAP software we will parse the data into the appropriate bands.
Total hours worked—Exempt salaried employees can default to 40 hours per week. Non-exempt/hourly workers must be calculated from the payroll system, using the same hours from which the W-2 wages are calculated. If hours worked for every employee is submitted, using our balanceAAP software, we will create the report according to the EEOC specifications.
balanceAAP software users will be able to generate their reports as described above.
Subscribe to Berkshire's blog for further updates to this developing story!