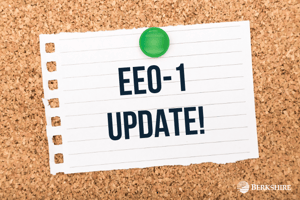 Employers with questions concerning collection of 2017 and 2018 EEO-1 Component 2 compensation data are finally getting some answers. The Equal Employment Opportunity Commission (EEOC) and National Opinion Research Center (NORC) at the University of Chicago have published a series of Frequently Asked Questions on topics ranging from the filing deadline, to how employers should report compensation and hours worked, to confidentiality of the data. Examples have been included to provide additional clarity.

The full FAQs can be read at https://eeoccomp2.norc.org/faq.html. Here we highlight answers to some of the most pressing questions employers have raised.
Who must file Component 2 compensation data:

Employers with 100 or more employees during the 2017 snapshot period.
Employers with 100 or more employees during the 2018 snapshot period.
The snapshot period is between October 1 and December 31, 2017 and 2018, respectively.

Does the Component 2 snapshot date need to match the Component 1 snapshot date: No, a different snapshot date is permitted.
What employees must be reported: All full- and part-time employees on the payroll during the snapshot period should be reported in one of the 12 compensation bands for their respective EEO Category.
What compensation data must be reported: "Box 1 – Wages, tips, other compensation" of Internal Revenue Service (IRS) Form W-2. Employers are not permitted to report gross annual earnings in lieu of W-2 Box 1 earnings.
What hours must be reported:

Actual hours worked by non-exempt employees; and,
Either actual hours worked by exempt employees (if tracked); OR

A proxy of 40 hours/week for full-time exempt or 20 hours/week for part-time exempt, multiplied by number of weeks employed during the EEO-1 reporting year;
OR some combination of actual and proxy depending on how employer tracks hours worked for exempt employees.

Employers with a 35 hour/week schedule may report actual hours or the proxy hours.
Guidelines for hours worked are based on FLSA definition, which does not typically include paid leave, i.e. sick leave, vacation, holidays.

How will W-2 Box 1 wages and hours worked data be reported: Tally total number of employees, then total number of hours worked during the EEO-1 reporting year, in each of 12 compensation bands, by EEO-1 category.
Is Type 8 vs Type 6 reporting required based on EEO-1 Component 1 filing: No, Type 8 or Type 6 may be determined for the 2017 and 2018 Component 2 filing regardless of the report type filed for Component 1. There is no requirement for employers to choose the same report type.
Will 2017 and 2018 Component 1 data be available in the Component 2 Online Filing System: No
How will confidentiality of compensation data be handled under FOIA: Employer compensation data filed under Component 2 may be protected under FOIA exemptions 3 and 4, which cover "information prohibited from disclosure by another federal law" and that is "customarily and actually treated as private by its owner and provided to the government under an assurance of privacy."
Also available at this website is more information regarding materials and instructions for Component 2 filing, including a User's Guide to the Online Filing System, a Fact Sheet of deadlines and definitions, and a Sample Form.
Berkshire will continue to monitor for and report on updates as we approach the anticipated opening of the Online Filing System in the coming weeks. Be sure to subscribe to this blog for future updates.