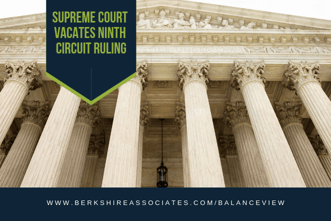 Recently, the U.S. Supreme Court instructed the Ninth Circuit to reconsider its en banc ruling making it harder for businesses to justify paying women less than men. An en banc ruling is a session in which a case is heard before all judges of a court rather than a single judge or panel. The Supreme Court noted that because one of the judges, Stephen Reinhardt, who had passed away by the time the decision was filed, the circuit erred in counting him as a member of the majority. The ruling was handed down per curiam, which is a decision made by a judge or a court in unanimous agreement. The ruling vacated a precedent-shifting decision that revived a California math specialist's sex discrimination suit. The ruling blocked employers from using women's salary histories as a basis for paying less than men in the same position without violating the Equal Pay Act. Judge Reinhardt and the majority had specified that policies where prior salaries are considered violate the Equal Pay Act because it can perpetuate sex-based pay gaps when women change jobs.
The Equal Pay Act outlaws paying men and women differently for the same work, with four exceptions: Employers can pay workers at different rates if they do so based on seniority, merit, the quantity or quality of the employee's work, or "any other factor other than sex." Even though all 11 of the Circuit judges who considered the case en banc said the case should be revived, only five judges agreed with Reinhardt. When his vote is removed from consideration, the ruling no longer had majority support. The plaintiff, in this case, had filed suit after learning that a male math consultant was paid at a higher salary than her because he earned more at a previous employer. The case was originally dismissed, citing a 1982 circuit precedent allowing employers to base pay on employees' past salary in some cases. The en banc court ruling stated that the holding clashes with the "essence" of the EPA.
Stay tuned to this blog for updates on this and other cases in the compensation arena.