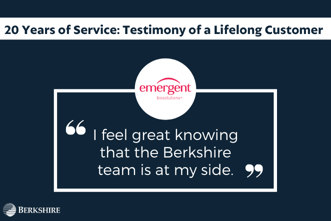 There's a lot to be said for a long-lasting customer relationship. Marge Sachs' relationship with Berkshire has spanned two decades and jobs at three different companies — and we like to think that says a lot about our relationship.
As senior director of human resources at Emergent BioSolutions, Sachs' responsibilities include managing the affirmative action plans and working through HR compliance matters. She says she relies heavily on Berkshire for information and support. "Out of all the years I've worked alongside Berkshire, I've never been let down," she says.
We caught up with Sachs to chat about her experience creating and maintaining affirmative action plans and Berkshire's role along the way.
The Beginning of a Long-Term Partnership
Sachs' first experience working with Berkshire was during her time at Provident Bank, as we helped her develop the bank's affirmative action plan. After she moved on to work with a government contractor, Sachs reached out to Berkshire because her previous experience had been excellent.

"One of the first calls I made as their head of HR was to Berkshire," Sachs says. "The company had grown to the point where we had to put an affirmative action plan in place." The company didn't have an HRIS. Berkshire provided support despite limited resources and helped prepare the team for an audit. "We passed the audit with flying colors," she says.


Building a Relationship by Putting the Client First
When she started at her current position, Sachs was thrilled that Emergent BioSolutions already had Berkshire on call. She now manages the designated affirmative action team, and they work with Berkshire's Lauren Buerger, Sachs says. Buerger brings her experience into play to help the team strategize and find solutions for potential affirmative action pitfalls. She also helps Sachs determine when to turn to legal counsel.

"I can always count on Lauren," Sachs says. "Berkshire always has time for me, like I'm their only customer." Despite an upcoming 503 audit, Sachs says she feels confident with the Berkshire team backing her. "I'm doing everything on my end, and I know they're going to do everything on their end to make sure that our organization is prepared and that we successfully get through this," she says.

Why Berkshire's Service Stands Out
Sachs speaks in glowing terms of Berkshire's commitment to top-notch service and accessibility. "Berkshire is always out in the field working with clients," she says. "They always make sure we have the resources we need, and they're always available if we have any questions." She says she loves the years of broad experience and specialized expertise that Berkshire brings to her practice.

After having worked alongside Berkshire for 20 years, Sachs says her experiences with the company have only improved with time. The affirmative action compliance landscape shifts constantly, but Sachs says she's confident that Berkshire will always keep her organization on the right path. "I feel like Berkshire is a partner," she says. "I feel great knowing that the Berkshire team is at my side."