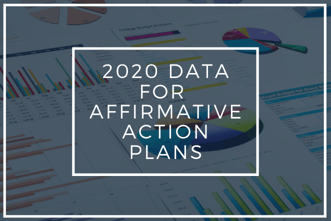 It's a new year and a new decade, and for many contractors, that also means it's time to gather your data for a new AAP! Here are some recommendations to make sure your data is as clean and accurate as possible before submitting to Berkshire:
Check that each employee has a unique ID – and that ID is not their Social Security Number! Berkshire will not accept data with employee Social Security Numbers.

Excel Tip: do a conditional format to highlight any duplicate employee IDs in the roster. This will check to see if an employee ID is used more than once in the roster, but it will not check if an ID was reused from a separated employee, which is not recommended.



Ensure all personnel actions that occurred in previous 12 months have been entered. Often, promotions, hires, or terminations that occurred at the end of the year take a little while to enter into the system. Consider asking managers to enter the transactions by a certain date.

Excel tip: sort the date column on each table to be sure transactions at the end of the year are included.



If an employee did not self ID for race or gender, provide a visual identification.

Excel tip: filter your race column to show anyone with a blank or "chose not to identify". This is also a good way to make sure all races are captured. Don't see anyone with Hispanic in this column? Maybe there's a separate field that captures Ethnicity that needs to be pulled as well!



Make sure the roster snapshot/point in time information is accurate. If you have a January 1, 2020 plan date, the roster needs to show the point-in-time snapshot of your workforce before the work day starts on January 1. Therefore, anyone who terminated on December 31, 2019 or started on January 1, 2020 should not be included. However, if someone terminated on January 1, 2020, they should be in the roster. Similarly, if someone received a promotion on or after January 1, 2020, the job in the roster should be the job they had at the start of the day on January 1, 2020.

Excel tip: if you know of a promotion that occurred between January 1, 2020 and when you pulled the data, spot check the employee's job codes across the data files.



In addition to race or gender, check if any fields are missing for employees – maybe their job code, IWD status, work location, or other field that was not pulled correctly.

Excel tip: filter each column for blanks to find possible missing data



If you have used any formulas, such as a V Lookup, make sure the formulas have been converted to values.

Excel tip: select the entire sheet, copy, then paste special as values.



Check if any establishments went above or under 50 employees from last year. Even though work location isn't always required, it is extremely helpful for this determination if you are able to provide it in your tables.

Excel tip: run a pivot table on work location to count the number of employees in each location.



Remind hiring managers and recruiters to review their requisitions where an external hire was made in the previous 12 months. The requisitions need to be closed, show there was an applicant pool, and the disposition reasons are accurate.

Tip: if you can pull applicant data by "Close Date", rather than the date an applicant applied, you'll be more likely to have the entire applicant pool needed.



Know where you posted jobs and did outreach so it can be added to the Narrative. Find out if those sources were effective so you can do a proper outreach assessment. Know when and how you evaluated personnel processes as well as your mental and physical job qualifications. Find out how many jobs were opened and how many were filled in the previous 12 months for your utilization analysis.

Tip: this does not need to be done prior to submitting your data but will need to be done prior to completing the plans.



Begin to think about your availability settings. What geographical areas do you typically recruit from? What jobs could typically promote to higher level jobs based on typical career progression? What percentage of the time would you look externally vs internally for each job group? You may not know the answers to this right away, and your Berkshire consultant will guide you through this step, but it's helpful if you already have some ideas in mind!

Tip: Employee zip codes, in addition to work locations, are helpful for this determination if you are able to provide it.
As always, your Berkshire consultant will walk you through all these considerations as they review your data. We also don't mind getting more data than needed, allowing us to remove anything unnecessary – whether that mean extra requisitions you aren't sure if they should be included, or other data fields that aren't required.
Finally, as a reminder, our recommendation is to submit your data as soon as possible after your plan date! As soon as you are sure all personnel actions have been entered and as soon as you are able to run your reports, please send us the data. It will be your New Years' gift to us!