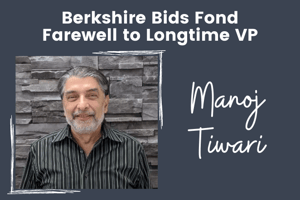 Berkshire announced today that Manoj Tiwari, Vice President of Product and Business Development, will retire next week after a nearly 20-year tenure at our company. His last day will be August 7.
Manoj has spent most of his professional career at Berkshire and has helped the company grow into a leader in the affirmative action consulting and software business, as well as a player in the applicant tracking software space.
Berkshire President Beth Ronnenburg thanked Manoj for his many years of service.
"Manoj has contributed 20 years of experience to Berkshire and his achievements will not be forgotten. He has been an incredible partner to me throughout his time at Berkshire," Beth said. "I am a better leader because of his guidance and honesty. I appreciate his passion and dedication and look forward to making him proud as we continue to prosper and grow as a company."
He was the 25th hire for our company in 2000, beginning his tenure as the director of IT, where he supervised a small team of two developers.
Manoj's leadership has helped our company grow from a small "mom and pop"-style business into the well-respected industry leader that we are today.
As a technical expert, he began leading software and development initiatives. However, his approachable nature enabled him to bridge the gap between product development and sales. Over time, Manoj became known for his ability to do product demos in support of the sales team, and eventually took on the role of overseeing both the sales and marketing departments as a result.
His business acumen led him to close some of the largest deals for our company, in part because he was willing to take on large projects that others shied away from. One notable example was in 2001: a company approached Berkshire and needed 1,200 plans. Manoj gathered a team of volunteers to take on the large, and arduous project. At that time, a large project for a company as small as Berkshire was a huge undertaking. Manoj and his team completed the plans - burning, labeling, and packaging 1,200 CDs containing each plan, and delivered it to the client on time. That project built confidence and experience among the staff, and it led Berkshire to taking on more large clients like those. Today, Manoj's influence remains, as Berkshire is now a major player in developing plans for Fortune 500 and well-known companies nationwide.
Manoj's influence will also live on in the balanceTRAK applicant tracking software he helped develop for Berkshire. The idea for the product came from a client who needed help in fulfilling requirements for applicant tracking in their AAP. The first version of balanceTRAK, dubbed "applicant flow log," was a web-based product that helped this client track applicants across their 5,000+ locations across the country. Though there have been many iterations of the product, the goal of helping our clients solve their applicant tracking issues has remained the central focus, and this product will be one of Manoj's legacies at Berkshire.
Of all the things he'll miss about working at Berkshire, the people rank highest of all. Manoj said he always valued the camaraderie of his co-workers, and especially the relationship he holds with Beth Ronnenburg, the company's President.
"Even though we represent two ends of a spectrum, we complement each other, and that's helped the company prosper over the years," he said. "Her style is totally different than mine, but we have respect for each other."
As for the future, Manoj envisions a day when affirmative action planning is less important, as the world increasingly embraces diversity in our communities and workplaces. He hopes that affirmative action planning will becomes less relevant, while acknowledging that pay equity and other efforts to balance out workforces will always be necessary.
"People will look beyond ethnicity and color," he said of his vision.
We will always appreciate Manoj and his tireless commitment to Berkshire and our values. We wish Manoj all the happiness he so richly deserves in his next life adventure.