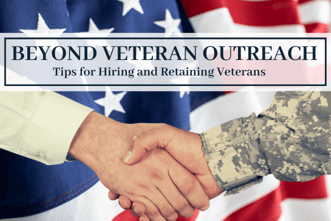 Ahead of the OFCCP's anticipated release of the list of employers selected for focused Veteran reviews and in honor of Veteran's Day, Berkshire has compiled this list of tips for going beyond the outreach requirements and fully integrating service members into the private workforce.
Companies know that they want to bring Veterans into the workplace. Not only to meet compliance requirements, but because of all the benefits Veterans bring: they have strong skills that often align with organizational goals, they have strong values and a "never leave a comrade or mission" mindset, they are a diverse group, they are good at problem solving and performing under pressure. What happens when executives are on board, TA has robust outreach efforts with organizations such as ESGR, Hire Our Heroes, Wounded Warrior Project, but the organization still struggles to hire and retain Veterans?
It's time to look at the rest of the employee life cycle – from talent acquisition to onboarding to development and culture.
Talent Acquisition
This step is often a bottleneck for hiring Veterans, mostly because veteran resumes are very different from civilian resumes. Military resumes are long, listing many positions and using specific ranks, titles and lingo. It's often difficult for a transitioning veteran to parse their resume down to the "typical" one or two pages. Also, since their ranks and titles carry so much weight and shared understanding of job duties, it's often difficult to translate the skills of their rank and title. Finally, keep in mind that candidates might not be able to disclose some of their accomplishments and roles due to security clearances, whether on their resume or in an interview.
Disney has made it easy for Veterans applying to jobs by adding a search feature on their careers page where they can enter their Rank and Area to find relevant job openings. Not all contractors will be able to implement this type of system, but recruiters can be trained to be familiar with military structure and lingo. There are two training/certification opportunities for recruiters from SHRM and AIRS. For very small contractors, recruiters can be trained to read a DD Form 214 (Release of Duty) and how to convert Military Occupational Specialty (MOS) Codes. MyNextMove.org has a search feature where contractors can enter an MOS code to find similar civilian careers. SHRM's HireVets Service also includes a Military Skills Translator to assist employers.
Onboarding
Implement a Veteran Mentoring Program. Pair the new employee with another Veteran employee who will understand the language, difficulties, and mentality of transitioning out of the military. Since Veterans often had few benefit options, the number of available plans elections may be overwhelming – offer additional one on one time to explain the benefit options and asset the employee in making the right selections for their family. If a new employee is a military spouse, pair them with another military member or spouse who understands the role they play in supporting their loved one.
Development and Culture
Making sure there is a Veteran friendly culture once the employee is onboarded is also key. Here are a few tips:
Make sure they are aware of your Reasonable Accommodation and other leave policies. Not only will they need time off if they are deployed, but Reserve or National Guard members will need time off for training drills one weekend a month and two weeks per year. Having flexible work schedules to accommodate will alleviate stress and allow for open communication.
Veterans are used to moving up the ranks within the military so be clear with them if internal mobility is available and the opportunities to do so.
Create Veteran Affinity Groups.
Be sure they are aware of any Employee Assistance Programs.
Recognize their service. If appropriate, address by their rank; they worked hard to earn their military title. Consider holding a small ceremony on Veterans Day to honor their service, as well as other employees with family members who have served or are serving.
Train supervisors on creating a veteran-friendly culture. Resources are available from the US Department of Veterans Affairs Veterans Employment Toolkit. The toolkit includes information about why hire vets, understanding military experience (including structure, culture and deployment), supporting veteran employees, and links to other resources like understanding PTSD and JAN.
Don't forget about military spouses. Recognize and appreciate their challenges and own type of service!
By thinking about and making efforts throughout the entire life cycle, an organization can efforts beyond outreach and fully integrate separating service members to increasingly attract, hire, and retain Veterans in the workplace!