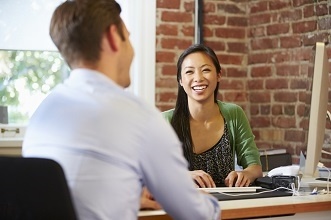 A core component of a federal contractor's affirmative action plan (AAP) is the creation of a job group structure. Office of Federal Contract Compliance Program's (OFCCP) regulations state the "job group analysis is a method of combining job titles within the contractor's establishment" (41 CFR 60-2.12). However, what does this mean? What is the best way to do this? Why does this matter?
When determining job group structure, the most important part is to group jobs by similar content (job duties and responsibilities), wage rates, and opportunities (for training, promotion, transfers, and other benefits). Usually, this means you'll start by grouping your jobs by EEO Categories. The terms job groups and EEO Categories are sometimes used interchangeably, but, for all but the very smallest employers, job groups are actually subsets of EEO categories.
If you are a contractor with a total workforce of fewer than 150 employees, the regulations state you can create job groups at the EEO category level. However, if you have more than 150 employees, and particularly if an EEO category is over 50 or 75 employees, it is recommended to create sub-groupings of job titles within the broad EEO categories. There is no minimum job group size; however, try to target the overall size of each job group at 30 or more employees for statistical purposes.
How should you break the EEO categories down? There are no clear rules given by OFCCP, but typically there are two approaches:
Approach 1: Content/Function Driven: Under this approach, jobs are grouped together based on similar content or function (i.e.: Administrative Professionals, Technical Professionals, Finance Professionals, Engineers). This approach usually means there are easier to define recruitment areas for the job groups. Also, jobs that perform the same function are more likely to have similar compensation structures. For example, grouping employees who perform sales functions together makes sense because they perform similar work and also are often paid using a different compensation structure, such as a commission-based system. This is important since, in audits, the OFCCP is often looking at employee level compensation data by your job groups.
Approach 2: Opportunity/Level Driven: Under this approach, jobs are grouped together by level, wage rate, or opportunity (i.e.: Senior Level Professionals, Entry Level Professionals). This approach works well to reflect promotional movement for goal attainment purposes. However, depending on your compensation structure, this approach might group jobs with vastly different wages. Also, depending on your recruitment strategies, this approach has a possibility of more complex recruitment areas due to variance in the types of jobs in each level.
Whichever approach you choose, it is important to be able to explain how you created job groups if asked during a compliance evaluation. Not every EEO Category has to be broken out, either. It is acceptable to break out only one EEO category into smaller sub-groups. Job group structure should be evaluated regularly and when there are significant changes in your organization. Although job group structure can be revised at any time, many contractors strive to keep their job group structure relatively consistent from one AAP year to the next for accurate goal attainment and adverse impact analysis. You also want to think about what affect any changes might have on other systems. Do you use the same structure in your HRIS system? Are there other reports outside of the AAP that use job group structure to communicate diversity or other results to the field? You also may want to consider consulting with your compensation team to ensure consistency.
Why does all of this matter? Analyzing the roster by job group allows contractors and OFCCP to locate with more accuracy where a need for a placement goal might exist. Job groups are the unit of analysis for most of the reports in the AAP, including a contractor's personnel activity such as hiring, promotions, and terminations, so it is important they are correct. For example, take a company with a large group of professional level employees. Analyzing by EEO category as the job group means you are comparing promotional, termination, and hire selection decisions and recruitment practices for all professional jobs—whether they are engineers, accountants, scientists, or IT, and whether they are entry level or senior level. You may recruit engineers nationally, but accountants and IT professionals locally. By breaking out the EEO Category into sub-groups, either by content or by level, you are better able to analyze if there are any concerns in your selection decisions and recruitment strategies. Once the EEO Category is broken down, you might discover you have a placement goal for minority scientists, or senior level engineers, even though the total number of minority and female professionals in your organization is higher in other professional job titles.
While there are few strict guidelines on how to design your job groups, since most of the AAP analysis are done by job group, it is critical that contractors think about their job group structure carefully. Think of them as the foundation of your AAP—they need to be well built for your AAP to be a useful management tool.