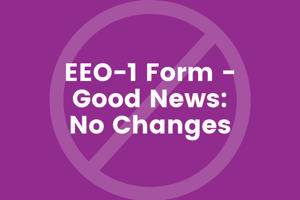 In June, the Office of Management and Budget gave approval for EEOC to continue to collect EEO-1 data. The data collection will not begin until March 2021 for the 2019 and 2020 EEO-1 filing cycles. EEOC will announce the opening of the 2019 and 2020 reporting cycles via their website and send a notification letter to contact persons at companies that must file.
OMB also approved the EEO-1 form, known as Standard Form 100, with no changes. This is the traditional Component 1 information – employees are filed by EEO-1 category, gender, race or ethnicity for each establishment. According to the OMB website, the new control number is 3046-0049 and the new expiration date will be 6/30/2023. The sample copy on the EEO-1 site has not been updated with the new control number or expiration date.
No announcement has been made about the electronic upload file specifications. Watch our blogs for continued updates.