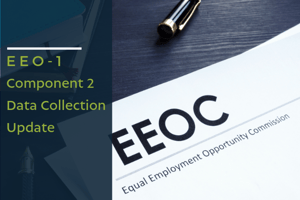 EEOC is moving quickly toward implementing the data collection for Component 2 of the EEO-1 report. The agency submitted one of the required periodic updates to Judge Tanya Chutkan on May 24, 2019. The report details their progress with their outsource vendor, NORC, for Component 2 of the EEO-1 report—since awarding the contract on May 1, 2019. The University of Chicago's National Opinion Research Center, or NORC, is an independent research institution that delivers reliable data and rigorous analysis according to their website. NORC has been working in the field of social science and public opinion research since 1941.
EEOC and NORC held a lengthy kickoff meeting on May 8 to for planning and discussion, and a detailed project plan has been drafted. One of the most important pieces of news from the report is that NORC has begun developing data collection specifications. The final specifications will be used to program the system that will be used by filers to provide 2017 and 2018 Component 2 data. Employers and systems professionals are anxiously awaiting these specifications so they can ensure data is accurately collected and properly formatted for submission.
Preparations and planning are also underway for NORC's operating of an email and phone helpdesk to assist filers with questions and concerns about the data collection requirements and process. According to the progress report, NORC has established an email inbox and toll-free number with recorded message/auto-reply responses, and they are working on a hiring and training plan to bring on staff for the helpdesk. NORC anticipates a target date for the opening of the helpdesk of approximately June 17.
NORC is also developing a three-tiered triage system process to receive and act on requests from companies who contact the helpdesk. Many of you may be familiar with this type of system if you have called the VETS-4212 helpdesk and been asked a series of questions. Helpdesk staff is provided with guidance to direct your inquiry to another person who can assist you.
EEOC expects to provide updated information to filers by June 3 about the data collection of Component 2 for 2017 and 2018, to include contact information for the NORC helpdesk.
EEOC is currently working to determine the response rates for EEO-1 data submitted over the last four years. Readers will recall that the data collection tool must remain open until a representative percentage of employers file the required information. EEOC anticipates much activity between May 25 and June 14, including finalizing the project plan, hiring and training helpdesk staff, and continuing to develop the data specifications.
Stay tuned with Berkshire for more developments as we anticipate the data specifications for reporting Component 2.