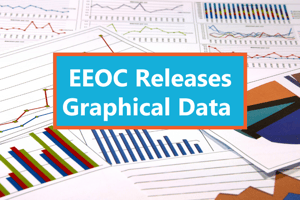 The Equal Employment Opportunity Commission (EEOC) released graphics that display employment discrimination statistics data over a period of five years. Developed by the EEOC's Office of Enterprise Data and Analytics, the agency's goal is to share their enforcement data in a simple, easy to understand visual for all stakeholders. EEOC Chair Janet Dhillon states that "…these new visual tools are part of the agency's broader effort to bring greater transparency to EEOC's operations."
The graphics display data between FY 2015 and FY 2019. Eight different graphics are available, including a bar chart that displays charges of employment discrimination and resolutions for total charges, retaliation charges, and sexual harassment charges by year. Information displayed includes the total number or charges filed by individuals each year, as well as the total number of resolutions each year. Resolutions are all charges closed in the administrative process, including charges with no cause findings, administrative closures, and merit resolutions (charges resolved with an outcome favorable to the charging party). Other graphics display the total monetary benefits recovered by EEOC over the five-year period, as well as the total monetary benefits broken out by type of enforcement, mediation, or litigation.
While most of the graphics display information is based on FY 2015 through FY 2019, three graphics display information just for the most recent FY 2019 year. The first of these breaks down the different types of charges EEOC received in FY 2019, and the last two include maps of the United States showing the frequency of charges by state and population.
Human Resources professionals are often responsible for distilling federal agency enforcement data into something they can share with their company to help leaders understand the importance of compliance. These new graphics can be a helpful tool to help Human Resources professionals convey this important information. The graphs can be found here.