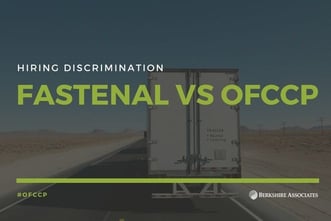 Fastenal has entered into a conciliation agreement with the OFCCP to settle allegations of hiring discrimination at its Denton, Texas facility. According to the conciliation agreement, OFCCP alleges that between November 6, 2012 – November 6, 2014, Fastenal discriminated against female, Black, and Hispanic applicants in the hiring process for its 8B Part-Time Laborer Job Group. The Conciliation Agreement notes the total adjusted shortfall, accounting for race/ethnicity and gender, is 55. To resolve these claims, Fastenal has agreed to pay $250,000 and to hire at least 55 eligible class members (36 females, 17 Blacks, and seven Hispanics) within the next 24 months, unless it exhausts the list of eligible class members prior to this date.
Beyond financial remedies, Fastenal also agreed to revise its hiring process for these part-time roles to include: (1) procedures for recruiting job seekers, including mandatory postings and outreach efforts, (2) the qualifications and criteria used to select job seekers, and (3) procedures to ensure job seekers and applicants are tracked and decisions are documented at each step of the hiring process.
This settlement serves as a good reminder to all federal contractors of the importance of appropriately maintaining applicant records and creating a hiring process that complies with all legal requirements. It is critical that contractors understand the Internet Applicant Rule, and how to implement it correctly. Additionally, all basic qualifications necessary for an applicant to be considered for a position should be included in advertisements and job postings under this rule. If a contractor uses scored procedures by an applicant tracking or online application systems, they may need to be validated under the Uniform Guidelines on Employee Selection Procedures if they have an adverse impact based on race or gender.