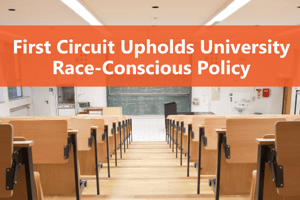 In the ongoing saga of cases brought around the application of Affirmative Action in higher education admissions, a First Circuit ruling reaffirmed the applying race as a factor in selections to develop a diverse student body, so long as race is a "factor of a factor of a factor."
Students for Fair Admissions, Inc. v. President and Fellows of Harvard College is a case brought by the organization behind similar cases regarding Affirmative Action, some having been argued before the Supreme Court, such as Fisher v. University of Texas. Students for Fair Admissions, Inc. (SFFA) argues that Harvard's admissions process discriminated against Asian applicants in favor of White applicants. Harvard initially sought to have the case dismissed, based on SFFA not having standing, but the initial request was denied. The district court found Harvard appropriately applied the standards for incorporating race as a factor in their decisions, following the requirements set under Fisher v. University of Texas, and SFFA appealed this decision.
The case hinges primarily on Harvard's candidate ratings. Among these factors are the candidates' "Academic Rating," "Extracurricular Rating," "Athletic Rating," "School Support Ratings," "Personal Rating," and "Overall Rating." The court found that race as a factor was primarily found in candidates' "Personal Ratings" where a candidate's "experiences with prejudice or discrimination and how the applicant has overcome this adversity could inform their personal rating."
The First Circuit found that Harvard's use of race as a potential factor in admissions decisions in developing diversity at the University is in line with requirements set in prior Supreme Court decisions, that diversity is a compelling interest for the University and that their application of race conscious policies is narrowly tailored. Harvard's goals, such as preparing students for future leadership, improving student education, producing new knowledge through diverse perspectives, and preparing students for adapting to a pluralistic society were found to be compelling and, importantly, unrelated to simple mathematical goals or benchmarks.
In determining Harvard had narrowly tailored its usage of race, the court found multiple factors inconsistent with the application of any sort of quota. For one, across race and ethnic groups, there were strong fluctuations between their rates of selections and applicants. Second, Harvard admissions officers described that regardless of daily reports describing the composition of the incoming class, race was never applied as a stronger or weaker factor in making decisions. Third, Harvard's application of race was not "mechanical," or resulting in predictable weight. And fourth, Harvard demonstrated the necessity of considering race as a potential factor by showing race-neutral decision-making rules would reduce the selection of some race and ethnic groups by double digit rates. From these applications, the First Circuit upheld the finding that SFFA could not demonstrate Harvard had discriminated against Asian applicants either through statistical or non-statistical evidence.
Though the First Circuit upheld Harvard's application of race in producing a diverse student body, SFFA has indicated an interest to appeal the case to the Supreme Court. This is widely seen as a way to test the Court's reaction to affirmative action in higher education admissions, since the makeup has recently changed. Berkshire will continue to follow this case and similar ones and will report updates as they are available.