According to a 2014 CareerBuilder survey, 23% of employees ages 18-34 expect to have a new job by the end of 2015, and 30% of employees are regularly searching for jobs. These statistics are great for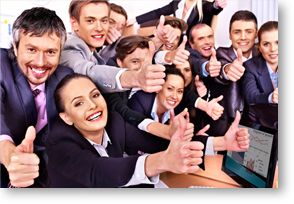 employers looking to fill job positions, but it also pressures companies to make their organization a stand out to job seekers. Typically when we think of the recruitment process, we do not think of something fun and exciting, but that can change! Gain a competitive advantage while showcasing an attractive and innovative company culture and employer brand with fun and unique recruitment efforts. Here are five ways to make your recruitment efforts more fun:
1. Videos
Last year, one of the predicted HR trends for 2015 was video recruitment. Videos are a fun way to engage with and attract potential candidates, offering a one-of-a-kind look into what it is like to work for your organization. Some fun video themes for your organization are:
A tour of the office: Office tours allow potential candidates to gain a sneak peek into your organization's work environment. Casual or business attire? Open space or closed cubicles? Answers to these questions, and more, can be experienced when candidates are invited into the atmosphere of your company.
Highlight fun employer brand: Videos give a unique ability to showcase your employer brand. Employees with vibrant personalities, fun office activities, and cool office features can all be included in a video to attract potential candidates. Let your video prove why top talent should want to work for you!
Employee testimonials: Let job seekers hear directly from current employees on the benefits of working for your organization. Testimonial videos are great because they allow employees' personalities and beliefs to be expressed, while highlighting the type of employees that comprise your organization. Make the videos fun by encouraging blooper reels, jokes, and company humor.
2. Social Media
Every awesome HR professional knows successful recruitment is a continual process. Organizations should always aim at attracting top talent. Social media networks allow constant engagement between employers and top talent—making it the ideal place to express employer brand. Create awesome and interactive social media pages by posting videos, pictures, polling questions, company updates, as well as engagement with site visitors through comment features.
3. Add Character to a Career Page
Often a career page is a potential candidate's first experience with your organization. Imagine opening your mail and receiving an invitation to what is supposed to be an exciting event, only to find the invitation is bland and uninformative. Would you want to attend this event? Treat your career page as an invitation to the coolest event around! Make candidates want to join your team by including fun pictures of employees, unique videos, and interesting information about your organization on your career page. Showcase an exciting, but professional, employer brand and add some fun to the recruitment process!
4. Interview Questions
Interviews are a two-way street. Not only are employers constantly on the search for top talent, but talented, qualified, and desired candidates are constantly on the search for great organizations who are making an impact in the business world. Nonstandard interview questions are beneficial to both the employer and job candidate. Asking an unforeseen question allows interviewers to test critical thinking and problem solving skills, as well as observe how a candidate responds to the unexpected. Fun, unique, and unconventional interview questions showcase the employer brand, and exemplify an innovative and fun work culture to the candidate. According to cnnmoney.com, various organizations were recently asked what some of their unique interview questions are for varying positions, below are some of the results:
Who would win in a fight between Spiderman and Batman? Stanford University
What's your favorite '90's jam? Squarespace
If you woke up and had 2,000 unread emails and could only answer 300 of them, how would you choose which ones to answer? Dropbox Rotation Program
Describe the color yellow to somebody who's blind. Spirit Airlines
Who's your favorite Disney Princess? Cold Stone Creamery
What did you have for breakfast? Banana Republic
If you were asked to unload a 747 full of jellybeans, what would you do? Bose
How many people flew out of Chicago last year? Redbox
Change the script and add some fun to your recruitment process by including some imaginative, but useful, questions into your candidate assessment.
5. Employee Engagement
No one can advocate for a fun workplace like current employees! Include employees in promotional videos as well as encourage them to actively assist in recruiting candidates. Not only will allowing employees to join the recruitment process broaden your candidate pool, it is a great way to engage employees and prove they are important to the success of the company.
Employee participation in the recruitment process will yield a stronger connection to the organization, and greater company morale. Engage employees by asking company trivia questions at department meetings such as "who can quote the company motto the fastest," or "what year was the organization founded?" These seemingly small gestures will engage employees, assisting them in better promoting your organization's purpose to potential candidates. Reward employees with small prizes and promote incentives such as bonuses for employees who refer a hired candidate.
Improve your recruitment process today with engaging, exciting, and fun recruitment efforts!
To learn more about effective recruitment efforts, read the article, "Ease Your Recruitment Process with Strategic Recruitment."