This article is part of a series teaching you how to Get the Hire You Desire.
To learn the top recruiting trends for 2015, LinkedIn surveyed one of the largest groups of talent acquis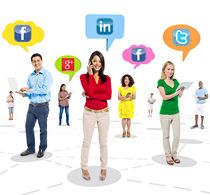 ition leaders in the world. According to LinkedIn's 2015 Global Recruiting Report, "the accessibility and connectedness of professionals online has made talent more accessible than ever," and over the last four years, the use of social professional networks to recruit quality hires has risen 73%. The vast opportunities to network and engage with your target audience and potential candidates online increases the effectiveness of social media as a recruiting tool. Here are three tips which when utilized will help you get the hire you desire with social media recruitment:
Sell Your Employer Brand
Most advice for social media as a recruitment tool is geared toward job seekers. They are advised to keep their online profiles polished and professional as well as do their best to convince employers who might come across their profiles that they are the best candidate for a position. This same advice needs to be geared towards organizations. It's imperative for employers to remember that not only are you looking for great employees, but job seekers are looking for great organizations to be a part of. Promote your company culture and employer brand through pictures, videos, client and employee testimonials, and the best industry related content. Give job seekers a positive view on your organization, and make your organization a go-to for top talent.
Join Groups and Forums
Groups and forums on social media networks are communities within the websites where like-minded people come together to share thoughts, trends, and advice. These communities are a goldmine for employers because they give them direct access to top talent—as well as create the perfect platform to promote their organizations. Not only can employers express their employer brand in these groups, but it's also an ideal place to post job openings, articles, and industry advice.
Encourage Active Recruitment
Implementing active recruitment with employees is one of the best cost-efficient and effective ways to get the hire you desire. Encouraging employees to assist in bringing in top talent is a strategy that will increase your ability to reach a broader, more diverse candidate pool. Implement an employee referral program with a reward incentive to get more employees involved in the recruitment process. But let the focus be on the importance of referring top and highly qualified talent—reminding employees of the hiring goals.
Social media has proven itself to be an awesome and effective tool that brings in the best candidates. Include the use of social media in your recruitment process, and remember to refer to these tips to get the hire you desire.
For more information on how to get the hire you desire, read "Ease Your Recruitment Process with Strategic Recruitment."