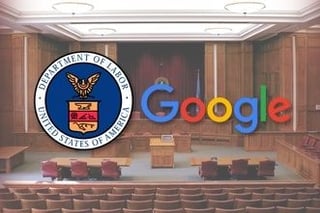 It's too expensive to prove there is no gender pay gap. This is Google's argument following their refusal to turn over compensation data to the U.S. Department of Labor, highlighted on social media and various publications following a recent hearing before a DOL administrative law judge (ALJ). However, there's another argument not receiving nearly as much buzz—Google has a constitutional right to raise a lawful defense against a request that, in its opinion, is unreasonable and goes beyond the scope of the DOL's investigation.
DOL's Office of Federal Contract Compliance Programs (OFCCP) has accused Google of "extreme" pay discrimination. Google continues to deny these accusations, asserting it performs its own gender-based analyses annually to ensure fair and equitable pay. After Google had refused to provide OFCCP with a complete job and salary history and contact information for 20,000 or so employees, interview notes for approximately 54,000 interviews, and other documentation during an OFCCP compliance review, OFCCP filed an administrative complaint seeking access to the information.
In testimony at the most recent hearing regarding DOL's request, Google estimated DOL's request for additional compensation data involves over 1.3 million data points, 500 hours of work, and $100,000. This, they say, is in addition to the 2,300 hours and close to $500,000 already expended to comply with DOL's demands. Lisa Barnett Sween, an attorney for Google, said: "this is obviously a very time-consuming and burdensome project." Labor Department attorney Ian Eliasoph fired off this dubious retort, "Google would be able to absorb the cost as easy as a dry kitchen sponge could absorb a single drop of water." DOL is standing firm that Google has the capital to comply with the detailed compensation data request that was made as part of the agency's ongoing compliance evaluation. Google is standing firm that revenue is not the underlying issue in its refusal to comply; that the heart of this case is whether a DOL request of this magnitude is reasonable or burdensome.
During the most recent hearing, the ALJ asked whether a recent Ninth Circuit decision may impact the ruling in this case. In the case McLane Co. v. EEOC, EEOC issued an administrative subpoena requesting detailed contact information for employees, including names and social security numbers, related to a charge of discrimination. When McLane, like Google, refused to comply with the request, EEOC, like DOL, filed a lawsuit against the company. A district court ruled against EEOC, but on May 24, 2017, the Ninth Circuit Court of Appeals ordered a second review by a trial court to decide whether the EEOC request is reasonable and McLane must comply. Still to be determined is whether EEOC can force employers to turn over "pedigree information" on employees.
Employers should follow both cases closely, as rulings will no doubt have significant implications for employers. To receive more updates like this, subscribe to this blog to get news delivered to your inbox.