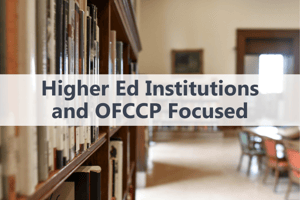 Before the Labor Day holiday, OFCCP's Director Craig Leen, along with colleagues Bob Gaglione (Deputy Director), Patty Davidson (Deputy Director), Bob LaJeunesse (Director of Enforcement), and Chris Seely (Acting Deputy Director) participated in a listening session for Higher Ed contractors held by the American Association for Access Equity, and Diversity. This listening session focused on how the OFCCP could handle promotion based focused reviews for colleges and universities in the near future. Higher Ed contractors were left off the previous Corporate Scheduling Announcement Lists that were previously released, however Director Leen did mention during this listening session that colleges and universities will be on the next list that is set to be released "very soon."
During this listening session, there was discussion on how tenure works in higher education and parallels between common promotion issues that are found not only within the higher ed community, but also with non-higher ed contractors. This discussion led to a good amount of promotion issues that may be faced by all types of contractors during these focused reviews to include but not limited to: tracking of promotions (especially those that lead to tenure positions); recruitment waivers; how to account for dual appointments; if employees in different disciplines could be similarly situated; and who is an employee.
The promotion based focused reviews are still in development with regards to what will be evaluated and required for contractors to submit during these reviews. Contractors, including higher education institutions, should begin taking a look at promotion practices and the guidance surrounding promotion practices. These are discussed in the Higher Ed Technical Assistance Guide released by OFCCP. As we learn more about these and other reviews being developed by OFCCP, we will continue to inform our readers of new and developing information. Stay tuned.