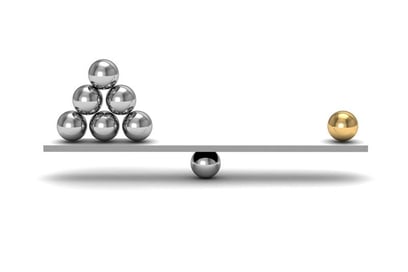 New technologies and shifts in recruiting have afforded startups and large corporations a similar opportunity to hire talented candidates.
In the past decade, there has been much talk and accompanying evidence on how technology has allowed the world to grow more connected. Thomas Friedman's 2005 book, "The World is Flat," discussed in great detail how globalization and easier international communication has encouraged new opportunities for business and commerce. That trend has manifested itself on a broad scale, but also within individual industries: Each sector has embraced technology as a means of improving connectedness and reach.
HR and recruitment are no exceptions. Now that technology is a core part of so many organizations, no longer is a company's size and budget crucial to its ability to attract talented candidates. Here are several reasons why the small businesses have the ability to compete with larger counterparts for the same talented individuals:
1. Better software available to all
As modern software platforms become more widespread, it is no longer cost prohibitive to invest in a better Applicant Tracking System. Hiring management software is available to nearly every organization with an interest in more efficient and perceptive processes. As a result, small businesses with relatively low budgets have plenty to gain by devoting a chunk of their capital to this technology—the return on investment will come in the form of better hires, deeper HR data, greater advertising reach, and various other metrics.
2. Changing applicant priorities
It used to be common that the best job applicants would seek the highest possible pay for the biggest possible company—all the better to guarantee stability and gain the most exposure. However, recent generations have placed a greater emphasis on work-life balance, peripheral benefits, workplace culture, and stimulating tasks. This shift is what allows startups to have such a prominent stake in hiring top candidates over large firms. That isn't to say those big businesses can't provide what candidates need—CNN reported consulting firm PwC is embracing work-life balance to accommodate their associates. However, if the organization is unwilling to meet with candidates' needs, those individuals are likely to turn elsewhere.
3. Online platforms improve visibility
On a related note, huge corporations aren't the only ones with a podium to stand on. Job forums, social media, and other Web-based platforms give small companies the same airspace as larger rivals. In other words, it's easier than ever for candidates to find a smaller company that might be a perfect fit. All this empowers applicants to identify more companies and small businesses to attract and retain valuable candidates. It also pushes organizations to back their advertising with substance—no longer will a huge outreach budget be enough to guarantee the rights to the best job seekers.
None of this means small businesses have the inherent advantage over larger firms now—just that the two have a more equal opportunity to attract great candidates. It's a win-win scenario for organizations and a benefit to job seekers as well.