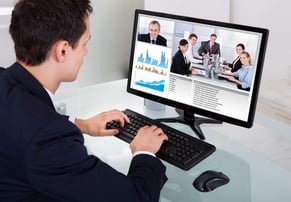 By using a video on your job listings webpage, you can attract more candidates to your postings.
As the saying goes, a picture is worth a thousand words. If that's the case, a video must be worth even more—which is why you should incorporate videos into your career page. If you think a short video is redundant or unnecessary, think again. Any good web developer will tell you how important videos can be for not only driving traffic to a website, but keeping viewers on the page. Plus, a video is a chance for you to showcase your culture, and employees while using your employer brand to sell your organization during the recruitment process.
Fortunately, posting a video on your website is a simple undertaking. With a little help from your IT department you'll have no trouble embedding a clip directly on the page. The question really is, what should this video consist of? Here are three guidelines to help answer that question:
"A video is a chance for you to showcase your culture."
1. Show off your workplace
The thing that resonates with candidates the most these days isn't just pay and benefits—people want to look forward to going into the office. They want friendly coworkers, a vibrant space, a challenging environment, and so on. Videos can be an awesome recruitment tool—showcasing exactly what candidates want to see.Take a walk around your office, show off the new break room, the numerous windows, whatever it is that makes your workplace stand out. Huffington Post recommends talking to a few employees and getting their take on how much they enjoy working there—just make sure you pick the best ones for the video.
2. Not too short, and not too long
Nobody is going to sit through a half-hour short film on how great your organization is. But 30 seconds is too short to get an adequate message across, and it will also come off as hastily produced. The goal for a video is to hit that sweet spot. According to a Wistia study conducted in 2012 using three years worth of data points, shorter videos keep more viewers' attention for the duration. In fact, 80 percent of people who began a 30-second video made it to the end, while only around 35 percent sat through a 20 to 30 minute video. But 60 to 70 percent of the audience made it through videos between one and five minutes long—making that length the ideal timeframe.
3. Provide useful information and include a call-to-action
Your video should entertain, but it isn't an art film—you want to bring the right candidates through your doors. Show your culture, make it the right length, but also tell them what they want to know, like how the commute is or what kind of qualities you're looking for. End with a call-to-action: explain how they can apply, where to send inquiries, and anything else they need to know to follow up. With web-based applicant tracking, you can also see how effectively your video is inspiring candidates to apply.
In this day and age, it's no longer enough to just have a website and job postings—everyone does. You should promote your organization in a way that will separate it from other employers and will show show off your employer brand. By leveraging video in the ways listed here, you are taking a step in the right direction towards getting the hire you desire.
For more information on how to optimize your job postings and make your organization stand out to top talent, check out this blog post, "Five Ways to Make Your Recruitment Efforts More Fun."