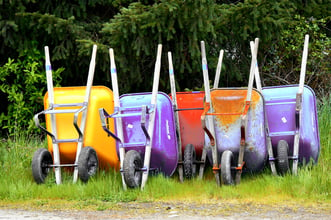 On Jan. 20, 2020, we honor the life and work of Dr. Martin Luther King, Jr. We also celebrate the 25th year of the MLK Day of Service. Touted as "a day on, not a day off," the holiday is a chance to keep its namesake's dream alive by giving back to our local communities through volunteering and service.
This day encourages organizations to offer employees a day of paid volunteering. Employees will enjoy the sense of fulfillment that comes with serving their communities, and the actions they take can have a powerful impact on the communities you serve. While investing in a meaningful cause is by far the greatest benefit of participating in a corporate day of service, there are collateral benefits for your organization, as well.
Here are some of the ways you can build brand awareness and cultivate employee experience while serving your communities.
Practicing Your Values Outside of Work
Most organizations are founded upon a set of core values, but how often do employees have the chance to showcase those values together outside of work?
Acting on your organization's values within your surrounding community offers employees a chance to reinforce what your company stands for while also expanding your visibility in the public eye. And something as simple and genuine as demonstrating your company values can be a huge differentiator, attracting like-minded consumers and job-seekers alike.
Sharing your organization's involvement in the community also offers an excellent branding opportunity. Providing matching T-shirts is a fun way to brand your community initiative while also fostering a sense of community among your employees. And sharing photos from the event will be key to amplifying your company's commitment to social responsibility. After the event, give employees a platform through your organization's social channels, blog or newsletter to share their experiences as volunteers and what the opportunity meant for them.
Pursuing Potential Partnerships
Putting your organization's values into practice also gives you and your employees the chance to meet and work alongside other individuals and organizations who share the same values. On days like the MLK Day of Service, in particular, you can expect other corporate entities to be out volunteering in the community.
This serves as an opportunity for networking and potentially partnering with other organizations in the future. Finding other businesses in your community who are interested in engaging in social responsibility creates tremendous potential to do even more good throughout the year. Take advantage of the collaborative energy surrounding corporate volunteering to meet and learn about other organizations in your area.
Curate an Excellent Employee Experience
Serving your community is always a fulfilling task, but when shared with friends and co-workers, it can be even more meaningful. To ensure the best employee experience possible, give your staff a voice in the selection process. Consider polling employees well ahead of the date to gauge interest and allowing them to select charities and causes they are most passionate about. Employee buy-in is easy if they are excited to participate.
An internal communication plan can also keep the event upfront in your employees' minds and help in communicating the logistics of the day. Employees should know well in advance where they are volunteering, what type of clothes to wear and when to arrive. You can also communicate statistics regarding the project's potential impact and reasons why service to the community is so vital. This increases engagement and helps get your employees excited for the chance to give back.