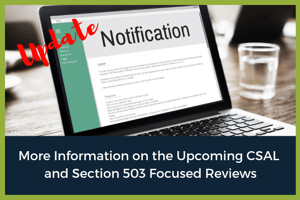 The OFCCP has announced that its next Corporate Scheduling Announcement List (CSAL), detailing which federal contractors will be listed for an OFCCP audit, will be released in mid-to-late March 2019. OFCCP is also, for the first time, releasing the CSAL exclusively in their FOIA Library and forgoing mailing letters about the upcoming audit to contractors.
In their press release announcing this change, OFCCP also calls attention to their plans to conduct Section 503 Focused Reviews and compliance checks, in line with directives released in August 2018.
OFCCP states a Section 503 Focused Review can entail interviews with managers responsible for equal employment opportunity and Section 503 compliance, and employees affected by these policies. Additionally, the OFCCP could request to review hiring and compensation data, as well as accommodation requests. While the Directive establishing focused reviews indicates they will be conducted onsite, the letter does not indicate an onsite review is required.
We also anticipate a return of the compliance check. The agency has had the ability to issue reviews in the form of compliance checks but has not used this letter in the past few years. Director Leen has indicated he would like to verify more contractors are in compliance with AA requirements, so we expect to see this type of review make a return. When the agency schedules a compliance check, the contractor must provide AAP results for the preceding year; examples of job advertisements, including listings with state employment services; and examples of accommodations made for persons with disabilities. OFCCP has not yet explicitly stated what they would specifically request for "AAP results."
The OFCCP will also be checking if contractors have affirmed their AAP for compliance review through the System for Awards Management (SAM). Berkshire has previously covered how to check if they have certified their compliance in this blog. To stay up-to-date with the posting of the next CSAL, OFCCP is encouraging contractors to sign up for their email updates here.