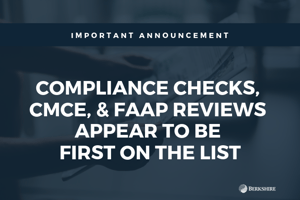 As we continue to review OFCCP's recently-released scheduling list and the methodology the agency used to develop the list, it appears the OFCCP will first be scheduling the 500 Compliance Checks, 83 Corporate Management Compliance Evaluations (CMCE), and 72 Functional Affirmative Action Plan (FAAP) Reviews. In the middle of the last paragraph of the OFCCP's Methodology for Developing the Supply and Service Scheduling List FY 2019, Release-1, available at: https://www.dol.gov/ofccp/scheduling/index.html it states:
"OFCCP randomly ordered the Compliance Checks, CMCE reviews, and FAAP reviews at the beginning of the scheduling list. Single establishment compliance reviews and Section 503 Focused Reviews were randomly ordered following the Compliance Checks, CMCE reviews, and FAAP reviews. OFCCP appended this randomly sorted scheduling list to district offices' lists of unscheduled establishments in the Case Management System. OFCCP does not purge unscheduled cases from prior lists before releasing a new scheduling list."
There are a few takeaways from the agency's explanation of how the list was ordered that are important to contractors:
First, all OFCCP offices must first schedule any reviews from earlier lists before they can access locations on the new list. If you still have a location that was selected on the 2018 list, this means the review will still be scheduled, and relatively soon!
Second, in an FAQ posted on its website, the agency has also made clear it will not schedule any locations from the new list for at least 45 days from its release, or until May 9, 2019.
Third, Berkshire believes the above description means that once a district office exhausts its prior list and after the end of the 45-day notice (May 9, 2019) the office can begin to schedule its available randomly sorted compliance checks, CMCE's, and FAAP reviews. Once those have been scheduled, each office will then move onto its randomly sorted establishment reviews and focused 503 reviews.
It is our understanding that OFCCP district offices will offer compliance assistance to companies on the list prior to sending out scheduling letters. We are also looking for additional resources on their website to assist contractors in preparing for a compliance check. Berkshire recommends that all contractors who are on the list ensure they are prepared. The first group (compliance checks, CMCEs, and FAAPs) only represent 19 percent of the total list, so we are anticipating that most, if not all, OFCCP offices will be in a position to begin scheduling the establishment and Section 503 reviews this summer.
Contractors can see if one or more of your establishments are on the list by going to the link at: https://www.dol.gov/ofccp/scheduling/index.html. For more information, please contact us at 800.882.8904, bai@berkshireassociates.com, or request more information on affirmative action plans here.