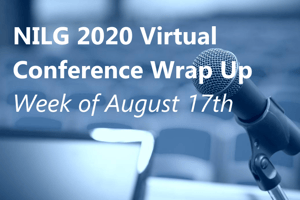 Berkshire's consultants are attending the NILG 2020 Virtual Conference Webinar Series, which is a series of complementary webinars in July and August. Below is our round up of a few sessions from this week:
AAP Reports: Metrics & Analysis
This session provided an in-depth review of the data components that make up the metrics and analysis of an affirmative action plan, namely the development of job groups, considerations when selecting recruitment areas, and how census codes are used to determine the demographics of the labor force.
The presenters started with a bit of a history lesson, covering the laws and regulations over the years that led us to where we are today with E.O. 11245, VEVRAA, and Section 503 of the Rehabilitation Act. They likened an AAP to a business plan, focusing on diversity and equal employment opportunity.
This was a great session for anyone who has ever wondered how to tackle those first two steps of developing the AAP: establishing your baseline and measuring your organization against it. The first step is the development of job groups as they are the backbone of all the analyses conducted as part of the AAP. Then you need to determine from where you draw your workforce from within each of the established job groups; the best way to do this is by looking at your own employee or applicant data, using zip codes to understand where your workforce generally lives or comes from. You also need to map each of your jobs to a census occupation code. These census codes are how you determine the demographics of the labor force for those types of positions within the area where you draw your workforce from. And finally, you need to determine how often you hire from this external area vs. how often you fill positions from within your own organization and from where within your organization. All these steps and calculations will give you a good understanding of your baseline or what you could look like. Both presenters were careful to point out that your results will only be as good as the amount of effort that you put into the process.
Now that you understand what you should look like, you have to compare your own workforce to the baseline to determine how you do look. The presenters covered several different methods that are acceptable for comparison including the pros and cons of each.
Additional analyses covered during this presentation included the analysis of personnel transactions to help you understand how you ended up with your current workforce demographics. Sometimes you need to break down the steps of an employment process to get a better understanding of which part of the process is causing a disparity. Enforcement agencies will do the same if there is adverse impact.
DOL Legal Updates
Beverly Dankowitz, Jeffrey Lupardo and Keir Bickerstaffe from the Department of Labor's Solicitor's Office provided an update on their current agenda. The Solicitor of Labor's office is an independent agency separate from OFCCP. It provides legal services to OFCCP and other DOL agencies in the form of litigation, advice, and rulemaking.
On the agenda currently is the recently issued rule on TRICARE which takes effect August 31, 2020. The SOL office is also in the process of developing the final rules for Religious Exemption to ensure conscious and protected religious freedom by law and Resolution Procedures to address a long-standing frustration of OFCCP regarding the structure of the compliance audit process which is typically limited to a single establishment or function unit.
The presenters also reviewed the following litigation currently in process:
EEO-1 FOIA case to determine whether EEO-1 Type 2 data can be withheld under FOIA exemption.
Cases pending with the ARB involving discrimination in hiring for a management trainee program and discrimination in hiring individuals of several races, including White applicants in favor of Hispanic applicants and gender and race-based compensation discrimination in compensation rates and hours assigned.
Cases pending with the ALJ including four involving systemic compensation discrimination
A defensive suit against OFCCP where Oracle has challenged the validity of administrative enforcement of E.O. 11246
The Not-So-Distant Future of Compensation Under Functional Programs
This session covered the timeline of Functional AAPs (FAAP) and considerations for contractors currently structuring their AAPs under the FAAP guidelines or considering them. FAAPs have only been an option for contractors since the year 2000 and have been underutilized since then. A report from the GAO encouraged OFCCP to evaluate the usefulness of the FAAP program which was then followed by a revised FAAP directive by OFCCP Director Leen to make FAAPs more attractive to Federal Contractors.
Under the FAAP guidelines, contractors may develop their AAPs based on functional or business units rather than establishment, however, contractors must request and receive approval from OFCCP to do so.
With the potential long-term increase in remote workers as an outcome of the COVID-19 pandemic, functional AAPs may become more attractive to contractors. Advantages to FAAPs include increased accountability of the function/business unit leadership, alignment to business practice, plan stability when location no longer matters, and possible smaller plans where locations are campus-like.
On the flip side, when a FAAP crosses cities and states, contractors must also consider the implications to job group structure and wages where cost of living, market rates, minimum wage, etc. differ by geographic location. These factors must be controlled for in pay equity analyses. Comparison ratios using current salary and market midpoints are one control option assuming that you have market data for all or most jobs.
As always, pay analysis work should be conducted under attorney client privilege and you should keep in mind the context and what you are trying to accomplish.
Berkshire will continue to report on NILG sessions throughout the summer.